Pashupati Prasad to release in January
November 28, 2015 | 12:38 pm&nbsp&nbsp&nbsp&nbsp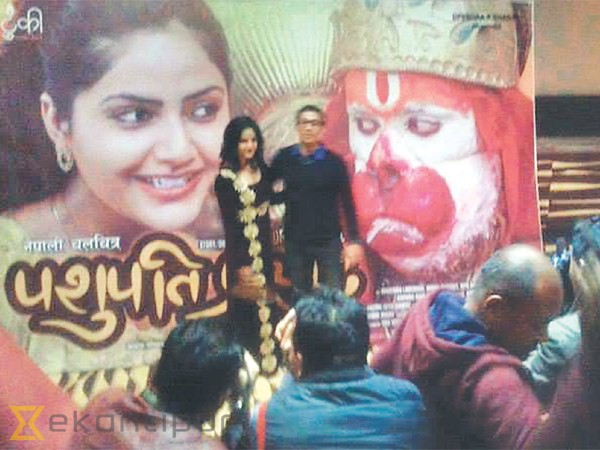 Kathmandu / November 27 : Nepali feature film Pashupati Prasad will be released on January 29, the production team said on Wednesday, during a press meet organised at Q's Cinemas, Durbarmarg. The event saw the release of the film's trailer.
The film, directed by Dipendra K Khanal and written by Khagendra Lamichhane, is produced under the banner of Tukee Arts Pvt Ltd and Dipendra K Khanal Production.
The comedy revolves around the story of a villager who has come to Kathmandu in order to fulfill his parents' dream. The film is shot mostly around the vicinity of Pashupati Temple.
The film features Khagendra Lamichhane in the lead role. Lamichhane rose to fame with the 2014 hit Talakjung Vs Tulke, which is competing under the Best Foreign Language Film category at the 88th Academy Awards.
Speaking during the event, Lamichhane said: "It was a challenging project. Since my last film Talkjung Vs Tulke was so successful, I always felt that pressure to do better in terms of writing and acting. We have given our best in this new venture." Along with Lamichhane, Pashupati Prasad features
actors Barsha Siwakoti, Bipin Karki, Prakash Ghimire, Rabindra Singh Baniya, Mishri Thapa and Aashish Adhikari, among others.
(source: The Kathmandu Post)