Govt regulates NGOs to protect national sovereignty: Minister Banskota
May 5, 2019 | 9:34 pm&nbsp&nbsp&nbsp&nbsp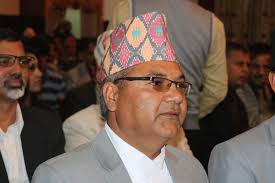 Kavre / May 5: Spokesperson of Nepal government, Gokul Prasad Banskota, has said government agencies will regulate the non-governmental agencies (NGOs) as their activities have posed threat to Nepal's sovereignty.
Addressing the 16th annual general meeting of Federation of NGOs at Dhulikhel today, Minister for Communications and Information Technology Banskota said, "We should accept foreign aid but none should undertake works that pose threat to national indivisibility and sovereignty. Banskota urged the participants of the meeting to furnish recommendations for making policies to keep such NGOs in check.
Referring to the irregularities in Red Cross Society, he argued the cases of irregularities in a charity organization as Red Cross had created an environment that charity organizations could not be trusted fully. The Minister also spoke of the need to regulate the social networking sites.
"Facebook's creator Mark Zuckerberg himself has pressed for regulating the social networking sites after questions regarding impartiality in the US election were raised." Minister Banskota also pressed for streamlining social networking sites as they could pose a threat to democracy if they are not checked on time.
Minister Banskota said that of all 17 goals of Sustainable Development Goals (SDGs), prosperity was one of the most important ones, which he said, the government was committed to achieving during its tenure. On a different note, he said that 'Baluwatar land sale' scam had occurred during the 'saint' leader's time and viewed that it would be threatening to the major opposition party itself to decry about it.
On the occasion, Minister Banskota honored Federation's Kavre's former President Krishna Chandra Acharya and Sankhabudda Lama. RSS