National Reconstruction Authority allocates Rs 156 billion budget for upcoming fiscal year
May 6, 2019 | 8:24 pm&nbsp&nbsp&nbsp&nbsp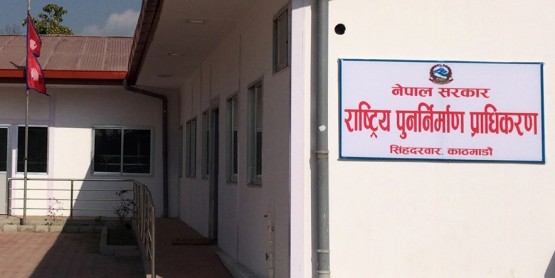 Kathmandu / May 6: The National Reconstruction Authority has allocated Rs one hundred 56 billion budget for the fiscal year 2019-2020 to expedite reconstruction and rehabilitation works.
A meeting of the NRA's directorate committee chaired by Prime Minister KP Sharma Oli took a decision to this effect on Sunday, according to a press release issued by the NRA.
During the meeting, PM Oli directed the NRA authorities to accomplish the remaining tasks of the reconstruction while expressing satisfaction to the pace of ongoing reconstruction efforts.
On the occasion, Finance Minister Yubaraj Khatiwada said that the finance ministry has been holding consultation with the various donor agencies for additional financial resources required for remaining reconstruction works. "The donor agencies are positive to extend support for remaining reconstruction works," he said.
NRA's Chief Executive Officer Sushil Gyewali said that the NRA is unlikely to complete its task of reconstruction within its stipulated five-year tenure.
"We are expediting the reconstruction works given the budget. The NRA hopes to complete the main tasks of the reconstruction within next 20 months," he said.
Gyewali said that the NRA is not in favor of its term extension.
"Once the tenure of the NRA expires, the remaining reconstruction-related works can be handed over to the proposed National Disaster Management Authority or other concerned government agencies," he said.
The NRA has already spent three years of its five-year term. It is said that some of the mega reconstruction projects including Dharahara and Ranipokhari may not be completed within its tenure. Amid political squabbling, the NRA was established nine months after the 2015 devastating earthquakes that killed at least 9000 people leaving thousands injured.