Naya Shakti and FSFN merge; new party to have two chairs, eight vc, three general secys
May 6, 2019 | 8:39 pm&nbsp&nbsp&nbsp&nbsp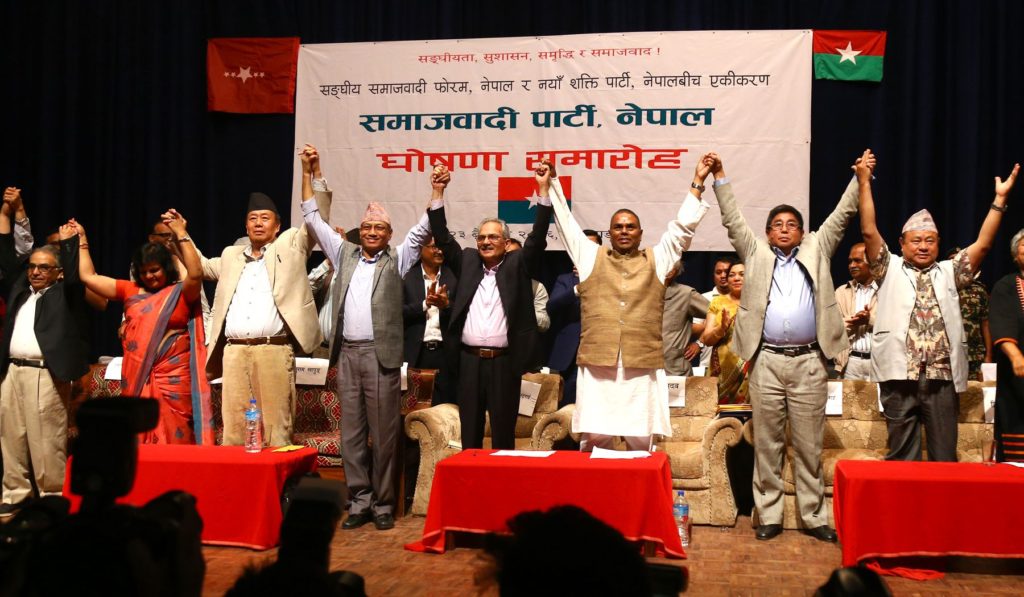 Kathmandu / May 6: Samajwadi Party-Nepal, a merger of two parties – Naya Shakti Nepal and Federal Socialist Forum Nepal (FSFN) will champion socialism and directly elected head.
The party will also advocate for a proportional election system. In addition, the party will also raise more issues on the basis of identity and pressurize the government to amend the constitution. The two parties, led by Baburam Bhattarai and Deputy Prime Minister, Upendra Yadav signed an agreement today at Nepal Academy, Kamaladi.
The party will have two chairpersons, Bhattarai and Yadav. "Both the parties are now dissolved. We will register the new party at the Election Commission soon," Ram Sahaya Prasad Yadav, leader of the newly formed Samajwadi party said. Bhattarai will chair the federal council while Yadav will lead the central committee.
Samajwadi Party, Nepal will have two chairs, eight vice-chairs, three general secys
The formal announcement of unification between Naya Shakti Nepal and Federal Socialist Forum Nepal (FSFN) has been made amid a function held in the capital on Monday.
Coordinator of the Naya Shakti Baburam Bhattarai and Chairman of the FSFN inked a nine-point deal to form a new party called "Samajwadi Party, Nepal" during the program at Nepal Academy.
The party will have two chairmen as per the deal reached between the two parties. Bhattarai has become the chairman of the Federal Council of the party while Yadav is the chairman of the Central Committee.
Ashok Rai has been nominated the senior leader and Rajendra Prasad Shrestha the co-chairperson of the party. The party has eight vice chairpersons namely Nawaraj Subedi, Parshuram Khapung, Yubaraj Karki, Rakam Chemjong, Renu Yadav, Lal Babu Raut, Hisila Yami and Hem Raj Rai.
Ganga Narayan Shrestha, Ranadhwaj Kandangwa, Ramsahay Prasad Yadav have been named the general secretaries of the party. Dambar Khatiwada, Dan Bahadur Biswokarma and Prakash Adhikari have been nominated deputy general secretaries.
Mohammad Istiyak Rai, Durga Sob, Parshuram Basnet and Prashanta Singh have been named the secretaries of the party. The party's treasurer is Bijaya Kumar Yadav.