New corridor under Bus Park Bridge into operation
May 7, 2019 | 9:53 pm&nbsp&nbsp&nbsp&nbsp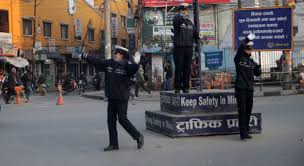 Kathmandu / May 07: Traffic Police has opened a corridor under the bridge of new Bus Park as part of its plan to ease traffic congestion in the Valley. The Metropolitan Traffic Police Division on Monday constructed the corridor as part of action plan on traffic management and pollution control.
The traffic police also have removed the huts constructed by encroaching upon the road. With the corridor in place, vehicular route from Tokha to Kalimati via new Bus Park and Shovabhagawati would be smooth, said Basanta Kumar Pant, chief of metropolitan traffic police division.
Earlier, the traffic police had brought into operation the corridors under Balkumari bridge, Gopikrishna bridge and Bhatkeko bridge.
Traffic management would be efficient and rod accidents would also be reduced once the big and small vehicles passed through the corridor, Pant added.
The traffic police has started opening corridors under bridges after framing a three-month plan of action in line with the commitment made by IGP Sarbendra Khanal to develop Kathmandu as a role model.