Nepali Hindus observe Bhaitika; President, Vice President, PM observe Bhaitika
October 29, 2019 | 9:46 pm&nbsp&nbsp&nbsp&nbsp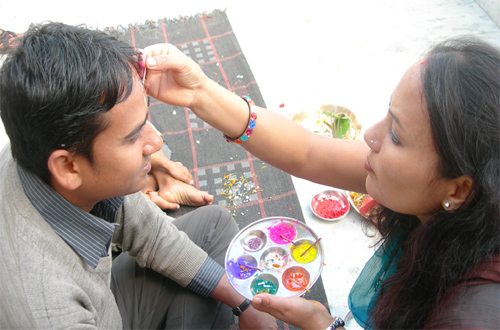 Kathmandu / Oct 29: The most important day of Tihar, the festival of lights, was observed on Tuesday.
Sisters throughout the country offered 'tika' to their brothers while wishing them happiness, long life and prosperity on the occasion of Bhaitika.
Brothers seated at a specially anointed place around which a trail of mustard oil was drawn. The sisters offered the brothers tika and garlands of 'Dubo' and 'Makhamali'.
The occasion commemorated a legendary event in which a sister won a boon from "Yama", the deity of death that her brother would not die until the mustard oil is dried up and the garland of 'Dubo' and 'Makhamali' faded.
The Bhaitika tradition is so strong in Nepali society that even those who have no brothers or sisters of their own receive tika from others whom they regard as brothers and sisters.
President, Vice President, PM observe Bhaitika
Meanwhile, President Bidya Devi Bhandari offered bhaitika to her two younger brothers Tejendra Pandey and Degendra Pandey today 11.55 am at Chapaliheight, Kathmandu.
In a special ceremony held on the occasion of the Bhaitika festival, President Bhandari put offered tika and garlands of makhamali and blessing to the two brothers, said President's Chief Personal Secretary, Bheshraj Adhikari.
She also presented dry fruits and sweets to her brothers. The president's brothers also presented her the gifts on the occasion. Prior to this, President Bhandari performed the rituals of paying homage to the lamp, kalasha (the holy urn), Ganesha as well as the Ashtachiranjivi and the Yamayamuna deities as per the time-honoured tradition.
Meanwhile, Vice President Pun received bhaitika from his elder sister, Manpura Gharti, and younger sister, Lalpura Gharti. VP Pun along with two brothers received the bhaitika at his residence in Rolpa.
Likewise, Prime Minister KP Sharma Oli received bhaitika from his younger sisters Bishnumaya Dhakal and Kaushila Devi Koirala at his official residence, Baluwatar, today.
The sisters also offered garland and presented sweets and fruits to PM Oli. The two sisters also offered bhaitika to PM Oli's spouse, Radhika Shakya. On the occasion, PM Oli also offered tika to his sisters and presented gifts to them. RSS