KMC intensifies works to remove hoarding boards in capital
January 6, 2020 | 9:48 pm&nbsp&nbsp&nbsp&nbsp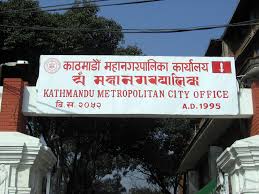 Kathmandu / Jan 6: Kathmandu Metropolitan City (KMC) on Monday intensified works to remove hoarding boards from across Kathmandu.
Deputy Superintendent of Police Dhanapati Sapkota, who heads the municipal police unit, said hoarding boards erected at various locations inside the capital including Tinkune, Maitigar, Teku, Sorakhutte, Tripureshor, Putalisadak and Thapathali will be removed.
Earlier on December 25, the government had directed KMC to remove haphazardly placed hoarding boards in various places of Kathmandu.
KMC demolished 13,630 hoarding boards in the past one week. Only 50 hoarding boards were removed in the last fiscal year.
According to KMC Spokesperson Ishwor Dangol, the office has now prohibited installing pamphlets, banners and billboards on the electric poles.
Issuing a verdict in August 2015, the Supreme Court had ordered the KMC to remove hoarding boards across the capital.
According to the KMC's Advertising Board Promotional Material Regulation Policy, it is illegal to put up commercial hoarding boards and advertisement materials on additional frames on rooftops and verandas of private and public buildings. The law, which came into force from 2013, has also prohibited placing such materials in public places and on utility poles and roadsides.