Tourism minister directs NAC to expedite process to purchase aircraft
September 9, 2020 | 9:26 pm&nbsp&nbsp&nbsp&nbsp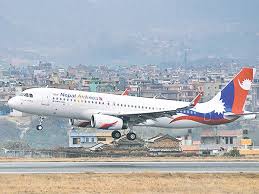 Kathmandu / Sept 9: Minister for Culture, Tourism and Civil Aviation Yogesh Bhattarai has directed Nepal Airlines Corporation (NAC) to immediately expedite the purchase plan of aircraft for domestic flights to provide services to the people living in mountain and remote areas. Minister Bhattarai made the directives to the state-owned airlines at a joint meeting with executive chairman and departmental heads of the NAC on Wednesday.
Stating that the NAC has only two Twin Otter aircraft for domestic air service and that it is not sufficient to meet the demand of people living in the remote areas, Minister Bhattarai asked NAC to immediately start with the aircraft procurement process.
Minister Bhattarai asked NAC to prepare a blueprint to run the NAC in public-private partnership (PPP) model after holding discussions with the Citizen Investment Trust, Provident Fund, Ministry of Tourism and Ministry of Finance.
Minister Bhattarai also directed all the NAC employees to work in such a way to protect the reputation of Nepal Airlines as it is a historic Nepali flag carrier. He also urged employees to make immediate and long-term plans from their respective departments to improve the condition of NAC.
As the airline company is still reeling under huge financial debt, Minister Bhattarai directed the NAC authorities to use the lands owned by the NAC in various 23 places for commercial gain to bring improvement in the company's financial condition. He directed NAC Executive Chairman Sushil Ghimire to take action against the employees involved in any activity that would cause financial loss to the corporation.
Minister Bhattarai also requested officials concerned to reduce the allowance under meetings and lay-off staffers stationed abroad and remove the policy of 50 percent off on tickets for employees, officials of board and retired staffers in order to reduce the expenses of NAC in view of the COVID-19 crisis. He stressed on the need to select a competent agency and determine the general sales agent (GSA) only after setting the necessary criteria.