90 percent occupancy in domestic flights
September 29, 2020 | 8:36 pm&nbsp&nbsp&nbsp&nbsp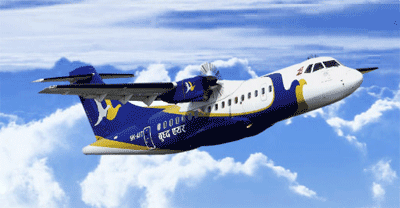 Kathmandu / Sept. 29: More than 90 per cent occupancy has been recorded in domestic flights. The domestic flights were operated amidst the COVID-19 pandemic since September 21 adopting health safety precautions.
The airlines companies operating domestic flights are providing air service by following the health safety protocols. The airlines companies are also adding the number of flights targeting the upcoming big festivals like Dashain, Tihar, and Chhath etc.
According to the airlines companies, the first week of the start of domestic flights has been encouraging. People are found drawn to travelling by air than land as air travel is fast and relatively safe from the health aspect. The government had decided to resume domestic flights from September 21.
Civil Aviation Authority of Nepal (CAAN) is preparing to increase the number of domestic flights from October 1. The civil aviation regulatory body has already decided to increase the international flights on September 1.
The big airlines companies like Buddha Air, Yeti Airlines, Shree Airlines and others operating domestic flights have an encouraging occupancy rate. It is said the week's occupancy rate in the domestic flights of these airlines companies is more than 90 per cent.
The airlines companies have applied to CAAN to allow them to increase the number of flights in view of the big festivals which are drawing closer. CAAN too has reached to the conclusion of increasing the number of flights as demanded by the airlines companies.
CAAN deputy director general Raj Kumar Chhetri said they have decided to increase the number of domestic flights and the number of additional flights allotted to particular airlines company would be decided by the evening today.
The domestic airlines companies are operating flights to all destinations even in the limited numbers.