Orange farmers becoming millionaire in Tanahu: Orange worth Rs. 50 million sold from two villages
January 1, 2021 | 9:52 pm&nbsp&nbsp&nbsp&nbsp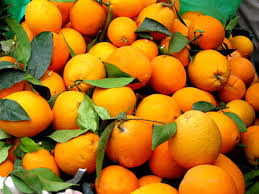 Amar Raj Naharki, Tanahun, Jan. 1: The farmers of Debghat Rural Municipality –3, Lhungring and Myagde Rural Municipality -2, Umachowk villages of Tanahun district have become millionaire by selling oranges.
According to Agriculture Knowledge Center Tanahun, farmers of Lhungring and Umachowk villages earned as much as 30 million and 20 million rupees respectively in the current fiscal year.
Senior Agriculture Development Officer at the center, Kul Prasad Tiwari, said that individual farmer made an income ranging from 5 lakh to 60 lakh rupees.
According to Tiwari, farmer Suk Narayan Shrestha of Umachowk village got the highest income by selling oranges.
Shrestha earned a sum of 60 lakh rupees this year alone.
Farmers of the same village and chair of District Development Committee, Bishwa Bahadur Adhikari, and his brother Nirmal Adhikari, have been earning more than 55 Lakh rupees annually.
Former Agriculture Extension Officer and the local of the same village, Ram Bahadur Thapa, informed that he had earned 16 Lakh rupees from orange sale this year.
Chairman of Umachowk Block Operation Committee, Nirmal Bahadur Adhikari, said that oranges of more than 20 million rupees were sold out from the village during the current fiscal year.
Similarly, Bhim Rana of Lhungring village made an income of more than 22 Lakh rupees from the orange selling.
'Many farmers of this village have become millionaire by selling oranges, there is no problem to sell oranges. Merchants come to the orange groove to purchase the fruits themselves' said Rana.
Locals Karna Singh Gurung, Nawaraj Gurung and Ram Bahadur Rana sold out the oranges of 18, 15 and 12 Lakh rupees respectively.
There is no household in this village that is not earning money from the sale of oranges. Farmers that were engaged in growing other grains and fruits have now turned to orange farming, added farmer Rana.
Oranges have been exported to cities such as Damauli, Pokhara, Chitwan, and Kathmandu.
According to Agriculture Knowledge Center Tanahun, farmers have been helped by expansion of orange farming, prevention of disease, launching of Small Irrigation Programme, orange planting, garden upgradation.
In the block area of Umachowk, orange farming has been operated on 150 hectors land where 235 households have been involved. A total of 27,913 orange trees have been planted.
As per the last year's report, oranges of Rs. 22.2 million was sold out from the Umachowk village alone.
It has been said that this year orange production was decreased by about 2 million rupees compared to the production made last year due to excessive precipitation.