Vegetable farming: Jukepani locals earn Rs. 40 million a year
January 8, 2021 | 7:43 pm&nbsp&nbsp&nbsp&nbsp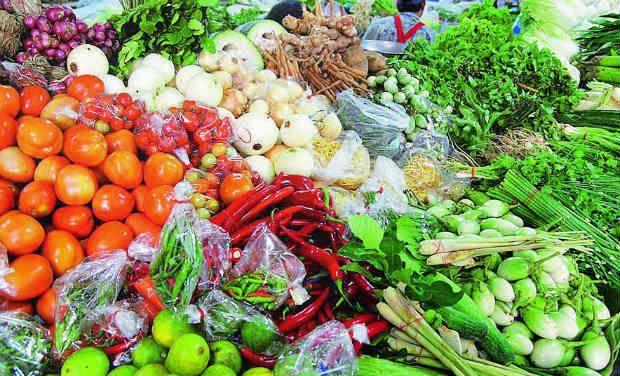 Gyanu Pangeni / Kawasoti, Jan 8: Till a few years back, villagers of Jukepani, Hupsekot Rural Municipality-1 in eastern Nawalparasi, wished to sell their land and migrate to cities as there was no means of income and the village lacked road and drinking water facilities.
Now, things have changed. They do not want to sell the land as it has become a boon for they are making a good income by growing vegetables.
Jukepani has been renamed as the vegetable village as all the residents have started cultivating vegetables, and their living conditions have improved a lot.
You can see concrete houses where you would see huts till three years back here and those who earned their bread through daily wages or by the sale of liquor are now busy in selling vegetables they have produced.
About a hundred Bigha area of land is used for vegetable farming here. And vegetables are grown in 60 Bigha of land in Kaule Tol alone.
Over 200 farmers have been engaged in commercial vegetable farming here through Lumbini Multipurpose Cooperatives.
Gana Bahadur Saru Magar, Chairman of the cooperatives that is located here, informed that out of the total shareholders of the cooperatives, over 200 farmers are engaged in vegetable farming.
Magar, who is himself a commercial vegetable farmer, said that the cooperatives had been providing loans to farmers at a discounted rate of interest, training and seeds of vegetables so as to promote vegetable farming in the village.
The chairman of the cooperatives said cucumber alone worth of Rs. 40 million was sold from Jukepani annually. Butwal, Pokhara, Narayangadh, and Kathmandu were among the market places of the cucumber grown here.
He said Kaule Tol alone sold cucumber worth Rs. 30 million annually. Compared to other vegetables such as cauliflower, beans, and tomatoes, cucumber cultivation is focused here.
Some farmers here had started vegetable farming some nine years ago. But commercial farming started just three years back after farmers had chances to go for agriculture tour and get training on commercial agriculture farming.
He viewed vegetable farming got promoted here as the local and the provincial governments assisted in building roads and irrigation system here and also provided help for agriculture equipment and seeds.
Ram Bahadur Rai, 36, a resident of Kaule Tol, said his life was drastically and positively changed from the vegetable farming. He had faced a problem of not maintaining costs for daily meals from the traditional way of farming but now he had been growing both seasonal and unseasonal vegetables.
After the failure of not earning expected money from the three years' work abroad, Rai started vegetable farming with the investment of Rs. 30,000 with a concept to do something in his own village.
He has been farming cucumber, pumpkin, tomato and potato on seven Kattha of land.
Now Bhaktapur's cucumber has been cultivated in his field. He said that the price of a Kilogram cucumber is Rs. 40 to 50 these days.
Rai informed that he has been able to save approximately seven lakh rupees a year from his occupation.
Remembering the painful days while abroad, he said, "I am very happy to do agriculture work with the family. If we do hard work, there is no need of going overseas to make money."
Yam Kumari Thapa Magar of Kaule Tol has also farmed vegetables in 10 Kattha of land. She said that her whole family was involved in it.
She has succeeded to construct a two-story house from the income of vegetable sale. She added that the earnings from vegetables have been invested in other businesses like groceries shop and boar farming.
She said that she had been saving about eight lakh rupees annually.
The Prime Minister Agriculture Modernisation Project 'Vegetable Zone' programme and the Chief Minister Environment-Friendly Model Agriculture Village Programme of Gandaki Province have been implemented in Jukepani now with a view to enhancing vegetable farming here.