362 new cases of COVID-19 and 699 recoveries in 24 hours
January 9, 2021 | 9:09 pm&nbsp&nbsp&nbsp&nbsp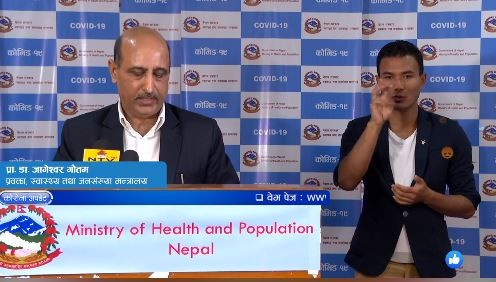 Kathmandu / Jan. 9: With 362 new cases of the novel coronavirus confirmed on Friday, the national COVID-19 tally has reached 264,521.
Currently, there are 4,681 and a total of 262 persons, mostly those who had returned from abroad, are placed in quarantine.
Meanwhile, 699 COVID-19 patients receiving treatment in institutional isolation or staying in home isolation recovered from the infection in the last 24 hours. Nepal has now recorded 257,928 cases of recoveries.
A total of three people succumbed to the deadly virus in the last 24 hours and with this, the national COVID-19 related death tally has reached 1, 912.
194 new cases recorded in Kathmandu valley
The three districts of Kathmandu valley recorded as many as 194 cases of coronavirus infection on Saturday.
Of the newly infected, 91 are females while 103 are males.
Kathmandu district alone witnessed 153 cases of infection while Lalitpur and Bhaktapur reported 23 and 18 cases, respectively. At present, there are 2,233 active Covid-19 cases in Kathmandu while number of the same in Lalitpur is 272 and that in Bhaktapur is 133.
As many as 479 people have lost their lives to Covid-19 in Kathmandu. Likewise, 151 fatalities have been reported in Lalitpur and 110 in Bhaktapur, so far.
Meanwhile, total number of people who have recovered from the disease in Kathmandu is 95,888. Likewise, 15,105 people have recovered in Lalitpur and 8,787 in Bhaktapur.
Kathmandu is the only district with over 500 active cases in the country. On the contrary, Solukhumbu and Mugu are the two districts with zero live infections, as of today.