Prez Bhandari ordinance to extend terms of TRC, CIEDP and their commissioners
February 5, 2021 | 8:58 pm&nbsp&nbsp&nbsp&nbsp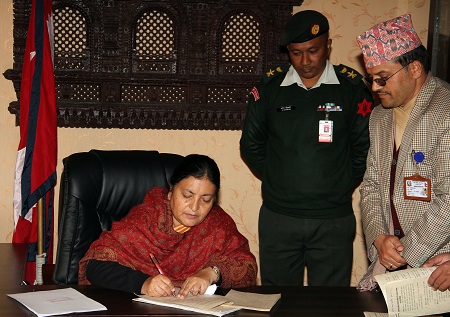 Kathmandu / Feb 5: President Bidya Devi Bhandari on Friday issued the Commissioner for the Investigation Enforced Disappeared Persons (CIEDP) and Truth and Reconciliation Commission (third amendment) Ordinance, 2021.
President Bhandari endorsed the ordinance as per the Article 114 (1) of the Constitution of Nepal at the recommendation of the Council of Ministers, according to the Office of President.
With this, terms of both the commissions — Truth and Reconciliation Commission and Commission of Investigation on Enforced Disappeared Persons— and the commissioners serving with these commissions will be extended by another six months. Their term was expiring on Sunday.