Upper Chaku-A, 22 MW Hydel Project To Begin Production
February 16, 2021 | 10:09 pm&nbsp&nbsp&nbsp&nbsp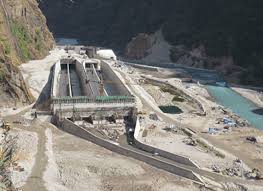 Chitra Mijar/ Sindhupalchowk, Feb. 16: The Upper Chaku-A Hydroelectric project constructed on the initiation of entrepreneurs of Sindhupalchowk is all set to begin the production of electricity.
The hydropower project having 22.2 MW capacity is starting production within two weeks. "The project, which is in the ownership of Shivashree Hydropower Limited will start generating electricity commercially 15 days after the one-week trial is done," said Bishnu Bahadur Khatri, managing director of Shivashree Hydropower Limited, adding, "A total of 8 MW electricity will be generated for now, which will be connected to the National Transmission Line."
"The electricity generated from the hydel project constructed at Phulpingkatti of Bhotekohshi Rural Municipality in Sindhupalchowk will be connected to the national transmission line via substation located at Lamosanghu, 22 kilometers away from the Upper Chaku- A project," added Khatri.
He informed that the project would produce 8 MW electricity for now as the water level in the river has dried up during the winter season. "Around 22.2 MW electricity as per the capacity of the project will be produced during the monsoon," Khatri said.
The construction of Upper Chaku A completed four years past the deadline as a 2,500 km tunnel was constructed from a dam located at Chanduraku of Phulpingkatti to the powerhouse at Changlekatti.
The project informed that the construction was delayed due to the 2015 earthquake and various rain-induced disasters.
According to the founder and executive chairman of Shivashree, Umesh Kasaju, the construction of the project had completed at Rs. 230 million. "As the time frame for construction increased, our capital also increased," said Kasaju.
The foundation for the construction of the project was laid on 2069 BS. Citizens Bank and other various banks and financial institutions have invested in the project. The project has issued 20 per cent share to the locals and public.