Youth Association to distribute 500,000 memberships
February 21, 2021 | 10:02 pm&nbsp&nbsp&nbsp&nbsp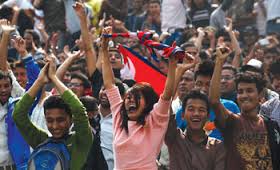 Kathmandu / Feb 21: The National Youth Association, a sister organization of Nepal Communist Party (NCP), is set to expand its membership with a target to make 500,000 new members by mid-April.
A two-day central committee meeting of the Association recently made the decision. Newly elected Chair of the Association Bachan Bahadur Singh said along with the new membership, new district committees in all the 77 districts, federal constituency coordination committees in 165 constituencies and 330 provincial constituency coordination committees and 753 local level committees will be formed.
All the committees will also have a cyber unit to help 'protect freedom and safeguard achievements of the people's movement'. The association has also decided to run a special campaign to publicize the success and achievements of the government.
The meeting has demanded the government build an atmosphere conducive to the youths with a youth-friendly policy. Chair Singh also shared that the meeting has directed all the committees to participate actively in the election to the House of Representatives scheduled for April 30 and May 10.