Local women cultivate barren land through collective farming
February 24, 2021 | 11:19 pm&nbsp&nbsp&nbsp&nbsp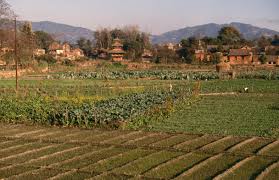 Smita Adhikari / Pokhara, Feb. 24: A large stretch of barren land near the Lamsalthar Community Forest in Machhapuchhre Rural Municipality-3 is now becoming green thanks to local women.
The four-ropani plot had remained fallow for nearly a decade because the owner had gone abroad for work and there were a few labourers in the village to till the land. But at the start of this month, 77 women gave new life to it and leased it for agriculture for five years.
The women, under their cooperative Sunaulo Patan Aama Cooperative Limited, have used the land for collective farming and will utilise the income generated to fund their organisation. They also hope to motivate other villagers to cultivate pieces of barren land elsewhere.
"For the past five days, we have been planting almonds," coordinator of the women's group Shakti Dawadi told The Rising Nepal, adding that they have also planted vegetables on a portion of the land.
"Each of us make compost manure in our homes, collect it and then use it in the field," Dawadi said. The women farm collectively and plan to sell the produce collectively for the cooperative.
Before establishing the cooperative, the women were involved in various mother's groups (Aama Samuha). "But our activities were only limited to musical programmes. Still we earned money for the groups and utilised it for social service," treasurer of the cooperative Anita Poudel shared. "But now, we are very happy with agriculture," she added.
According to Machhapuchhre Rural Municipality vice-chair Krishna Kumari Dawadi, many women groups were involved in agriculture and were generating money for social activities.