National archives digitising old manuscripts
February 24, 2021 | 11:20 pm&nbsp&nbsp&nbsp&nbsp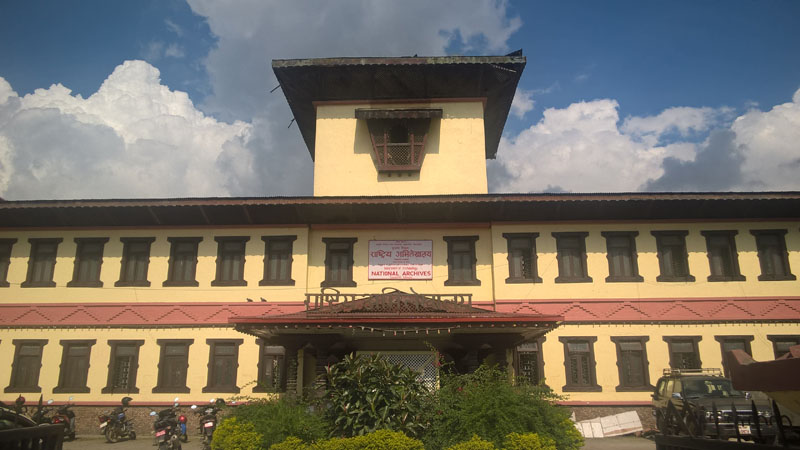 Binu Shrestha / Kathmandu, Feb. 24: The National Archives (NA) has started digitising manuscripts collected from its buildings and individuals in an effort to preserve them.
According to Archives Preservation Act 2046, old documents — like hand-written manuscripts, books, reports, financial statements, treaties and agreements, newspapers, magazines, letter deeds, drawings, photos, maps, plans, charts, files, cases, registers, original or duplicate films, microfilms, golden plates, copper inscriptions — are included in the documents of national significance.
The NA is the institution responsible for managing, protecting and preserving the country's archival documents. More than 50,000 documents and manuscripts are preserved in the archives for posterity.
To preserve such documents and manuscripts, the NA brought two digital machines in the fiscal year 2071/72 BS, when the digitization of microfilms had begun. Because of the advent of technology, the need to digitise microfilm had arisen, but due to the lack of modern equipment, that effort had hit a snag during the early days, according to of the NA.
The digitalisation of microfilms and original documents has become easier with the availability of modern digital machines at the office, Jyoti Neupane, a microfilm expert at NA, said.
The crucial works of digitalization were done during the fiscal year 2073/74 B.S.
"We had put around 50,000 pages of 2,000 manuscripts into the image management software of the archiving system in those years," said Neupane.
Moreover, 650,000 pages of 1,150 manuscripts were put into that software in the fiscal year 2074/75, 600,000 pages of 1,200 manuscripts in 2075/76 and 800,000 pages of 14,200 manuscripts in 2076/77.
The NA has succeeded in putting a total of 23,00,000 pages of 45,500 manuscripts into the software to date. They are now available on the internet.
Professional microfilm expert Neupane said, "The NA has planned to complete digitalisation of all microfilms and original documents within five years, but due to the lack of experts in that field, the process is yet to gather momentum." In addition, there is a huge number of microfilm collection under the NA's possession totalling 636,000 folios including individual manuscripts preserved on both negative and positive microfilm.
The microfilm collections are three times more than the collected documents and manuscripts in the office building, he added.
In addition to microfilm folios and original documents, NA has digitised 25,000 pages of document related to Kumari Chowk Adda, 7,000 pages related to Madan Bhandari Foundation and other 5,000 pages which were collected from different parts of the nation last year. It has made them accessible through the internet.
Kumar Shrestha, information officer at NA, said that the lifespan of microfilm is 300 years but due to several constraints like power cuts, microfilms' age housed at NA is limited to around 100 years.
With the advent of digital technology, preserving old documents has never been easier.
To preserve such documents from a natural disaster like earthquake and fire, a new server has been set up at Disaster Rescue Centre, located in Hetauda, in Makwanpur district. Digitised pages are preserved in three places simultaneously — at NA building, Government Integrated Data Centre (GIDC), located at Singha Durbar, in Kathmandu and Disaster Recuse Centre in Hetauda, said Shrestha.