Nepal being dragged to an increasing debt burden: World Bank
April 12, 2021 | 9:22 pm&nbsp&nbsp&nbsp&nbsp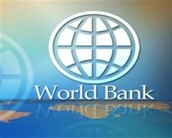 Kathmandu / April 12: The World Bank (WB) has projected that Nepal's public borrowing will reach around half of the country's gross domestic product (GDP) in the next fiscal year.
Unveiling 'Nepal Development Update' on Monday, the WB estimated that Nepal will be having public debt of 47.9 percent of the country's GDP in 2021/22. The international lending institution has projected the figure based on the growing debt burden of the country compared to the insignificant government revenue collection and surge in the budget size in the wake of the government enforcing populist budgets each successive year.
According to the WB, the public borrowing amount will remain at 41.9 percent of the GDP by the end of this fiscal year. With a slow growth in the GDP compared to the whopping rise in the borrowing amount, the share of public debt has been in an escalating trend every year. In 2019/20, the ratio was 36 percent while the figure was 27.2 percent in 2018/19 and 26.5 percent in 2017/18.
With the government enacting an ambitious budget every year, the fiscal deficit—gap between the government expenditure and government revenue—has also been on a rising trend. Last year, the country's fiscal deficit was 5.2 percent of the GDP which has increased to 6.9 percent in the current fiscal year. The WB has projected that the fiscal deficit will stand at 7.7 percent of the GDP in 2021/22.
The WB has also underlined that Nepal has failed to benefit from cross border trade despite having a huge potential of exporting goods. "Nepal's untapped export potential is estimated to be around US$ 9.2 billion, 12 times its actual annual merchandise exports," said Dr. Kene Ezemenari, World Bank Senior Economist and lead author of the update. "This export potential represents an opportunity to create an estimated 220,000 new jobs, with significant implications for productivity growth. Realizing that potential is not unrealistic in the medium term."
Development of green tourism, facilitation for foreign direct investment, reduction in trade costs and promotion of digital trade and e-commerce are among the sectors that the WB has stressed on the need to utilize for the country's economic development.
Speaking at the launch event, Faris Hadad-Zervos, World Bank Country Director for Maldives, Nepal, and Sri Lanka, assured that the WB will continue collaboration with the government and development partners, particularly on investments that seek to harness Nepal's export potential to support a sustainable and resilient recovery.