Govt. unveils budget for 2021/22 (Major highlights)
May 29, 2021 | 10:11 pm&nbsp&nbsp&nbsp&nbsp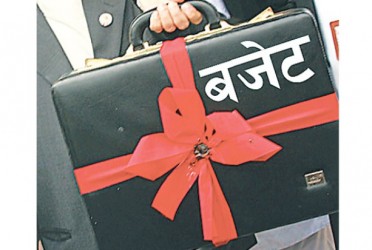 Kathmandu / May 29: Finance Minister Bishnu Poudel on Saturday unveiled a budget of Rs 1.647 trillion (Rs 1,647,570,000,000) for the upcoming fiscal year 2021/22.
Of the total amount of the budget, Rs 678.610 billion has been earmarked for recurrent expenditure while Rs 347 billion for capital expenditure by the federal government. Similarly, Rs 279.7 billion has been allotted for fiscal management.
These are the major highlights of the programs incorporated in the new budget.
The government has estimated the annual growth rate to stand at around four percent in the next fiscal year.
The government said the per capita disposable income will reach US $ 1,486 per capita per year.
Government allocated Rs 4 billion to procure health kits and medical equipment necessary to fight against COVID-19 pandemic.
Rs 4 billion allocated for the purchase of health kits and medical equipment necessary to fight against COVID-19.
Rs 26.55 billion allocated for the procurement of COVID-19 vaccines.
Government has decided to give continuity of the risk allowance to all frontline health workers directly involved in the treatment of COVID-19 patients.
Government hospitals provide free of cost treatment to COVID-19 patients.
Hospitals with more than 100 beds are required to install their own oxygen generation plants. Govt to bear 50% of the total cost required for the establishment of such a facility.
Customs fees and VAT exempted on import of medical supplies related to COVID-19.
Infectious disease hospitals to be established in all seven provinces
Necessary infrastructure to be constructed in Duwakot as extension facility of Bir Hospital.
Relief, discount and recovery package for COVID-19.
Fee waiver on 20,000 liters of drinking water
20 percent discount on daily essentials
Fully waive fee on electricity to households consuming up to 20 units of electricity and 50 percent waiver on households using up to 50 units of electricity per month.
20% flat discount on prices of rice, flour, lentils, salt, cooking oil, sugar and LPG sold by Food Management and Trading Company Limited and Salt Trading Corporation during the prohibition period.
Private businesses using state-owned buildings will receive a 50 percent discount on house rent during the prohibition period
Reinsurance scheme given continuity even in the new fiscal year to help businesses hit hard by the COVID-19 pandemic.
Government to provide free visas to foreign tourists for one month to promote tourism.
Renewal of start-ups will be provided subsidy through one door policy
If hotels that are shut due to COVID-19 pandemic are turned into isolation centers, govt to provide incentives
Rs 400 million allocated for skill development training
Senior citizen allowance raised to Rs 4,000 per month, 33 percent increment in all types of social security allowances
Rs 14 bn allocated for the Ministry of Labour, Employment and Social Security
1.20 bn allocated for women, children and senior citizens
A senior citizens' home to be established in Gothatar area of Kathmandu
Government to buy agricultural products of farmers to encourage them for farming
Rs 7.60 bn allocated for concessional loans to farmers
Continuation of 50 percent subsidies in farm insurance premium
Nepal to be self-reliant in milk and vegetables in two years; in wheat, maize and millet in three years; and rice in five years
Rs 12 billion will be allocated for the establishment of chemical fertilizers.
The new budget has allocated Rs 45.09 billion for the agriculture sector
Irrigation service to be extended to 29,400 hectares of agricultural land in next fiscal year
Budget for irrigation and water resource management increased to Rs 31.86 bn
Mero Kitta' system for land registration and transfer of land ownership via electronic medium to be brought into operation in all districts of the country
Poverty Alleviation Fund dissolved. The amount generated by the PAF to be mobilized through cooperative organizations.
Government has scrapped Poverty Alleviation Fund, its 32,000 revolving funds to be mobilized through cooperatives
15 million seedlings to be planted in Chure and Terai Madhes areas under the afforestation program; Nepal Army, Nepal Police and Armed Police Force to be mobilized
Govt to launch an Integrated Tourism Promotion Program
GPS tracking system to be implemented on the trekking routes for tourists
Light vehicles run with petrol to be displaced by electric vehicles by 2088
Local governments to be provided Rs 1.73 billion conditional loan.
Government to introduce 'Made in Nepal and Make in Nepal' campaign.
The government has decided to ban the use of plastic bags less than 40 microns from next fiscal year.
Industries to be established in Special Economic Zones will be given more subsidies, for next three years, 40 percent of the products can be sold in the domestic market
Rs 2.46 billion allocated for the construction of Sunkoshi Marine Diversion Project
Dedicated labs will be established in Kathmandu and Surkhet to test precious and semi-precious stones
Govt to reimburse 75 percent of the investment ino star hotels, cement industries and iron industries for access roads and transmission lines constructed as per their need
Safeguard and Countervailing and Anti-dumping laws will be implemented effectively
Exporters who manage to export more goods compared to last fiscal year to be provided with subsidies
Export subsidies will be extended to the production level
National Standard Policy will be launched to ensure supply of quality products
Government announces a plan to export water from Nepal's Himalayan region.
Rs 2.77 billion allocated for the development of industrial infrastructures.
Govt to provide grant based on the merit basis in academic education
Petroleum storage capacity to be expanded so that it can meet the national demand for at least three months
Youths to be provided upto Rs 2.5 million in loan at 5 percent interest rate.
A separate educational channel to be launched by state-owned Nepal Television
Broadband internet service to be expanded to 60 percent public schools within the new fiscal year
Rs 10 bn allocated for President Education Reform Program
New laws to be formulated to regulate e-commerce businesses
Budget allocated for the construction of Ram Temple in Ayodhyapuri of Chitwan.
Nepal Scout to be expanded to an additional 13,000 schools in the next fiscal year.
High Altitude Sports Centers to be established in Solukhumbu, Sindhupalchowk, Mustang, Manang and Jumla; Rs 2.74 bn allocated for the Ministry of Youth and Sports for the purpose
Rs 3.51 bn allocated for Melamchi Drinking Water Project; Rs 4.79 bn allocated for maintenance of distribution system
Ministry of Water Supply gets Rs 43.54 bn budget
Rs 2.64 bn for expansion and development of Ring Road, flyovers in different sections to be constructed
Minimum 100 electric vehicles to be brought into operation in coordination with Sajha Yatayat in the Kathmandu Valley
Flyovers to be built at Gwarko, Satdobato and Ekantakuna within the new fiscal year in order to ease traffic jams.
500 charging stations, terminal buildings and other infrastructures to be built across the country with involvement of the private sector
Rs 10.3 billion allocated for the development of railways in the country.
Tunnel way to be constructed along Tinkune-Jadibuti section of the road in Kathmandu
Railway service to be brought into operation in Jainagar-Janakpur, Biratnagar-Jogbani border area with India
Rs 10.3 bn allocated for railway; International consultants to be hired for the study of the possibility of metro rail and urban cable car in Kathmandu Valley
300 bridges to be built within the new fiscal year.
Madan Bhandari Stadium to be built in Damak, Jhapa.
Rs 37.61 billion allocated for developing electricity transmission lines and substations
Rs 2.76 billion allocated for alternative energy promotion
Rs 12 billion allocated for the implementation of Prime Minister Employment Program
Ministry of Physical Infrastructure and Transport to get Rs 163.36 billion budget
Customs duty on home appliances like washing machines and dishwashers reduced to encourage use of electronic appliances
1,629 MW electricity to be connected to the national grid this fiscal year
Rs 27. 47 billion allocated for the development of Himalayan trail from Taplejung to Darchula
Khiji Chandeshwari Airport in Okhaldhunga to be brought into operation within the new fiscal year.
Govt allocates Rs 3.53 billion to complete Gautam Buddha International Airport, Rs 1.33 billion allocated for domestic airports
Rs 4.7 bn allocated for the construction of Butwal-Gorakhpur cross-border transmission line and preparation for the construction of Kohalpur-Lucknow transmission line
Rs 1.52 billion allocated to give continuity to Tarai-Madhesh Prosperity Program
Govt scraps Local Infrastructure Development Partnership Program
All members of Federation of Nepali Journalists (FNJ) to be provided free of cost treatment in all state-owned hospitals, provision of accident insurance worth Rs 700,000 for journalists
Rs 7.74 bn allocated for the Ministry of Communications and Information technology
120 border outposts of APF to be built along the country's international borders to control illegal movements and crime
Government to launch NTV World channel to expand Nepal's reach globally
TIA to bring advanced passenger information system into use, and make visa available via QR codes to make immigration service systematic and of international level
Govt to issue national identity cards to 7 million Nepalis in the next fiscal year, all Nepalis to get national ID cards within next two years
Sick public enterprises like Hetauda Textile Company and Birgunj Sugar Factory, among others, will be taken to public-private-partnership model
Revenue collected by the government, donations and all kinds of payments to be made available through electronic medium; National Payment switch to be established, Nepal to bring its own payment card into use
Budget transfer process will be simplified
Suketar Airport in Taplejung to be renamed as Rabindra Adhikari Airport and Chuwandanda Airport in Terhathum as Aang Tshering Sherpa Airport.
Total budget for the implementation of government's Policies and Programs for the fiscal year 2021/22: Rs 1.647 trillion (Rs 1,647,570,000,000)
Government to provide upto Rs 80,000 loan to students to buy one laptop each at 1 percent interest rate.
Commercial hedging will be introduced to simplify the glitches in foreign exchange in foreign direct investment
Customs duty on the import of induction oven set at 1 percent to discourage use of LPG gas
Govt raises excise duty on beer, alcoholic beverages and tobacco products, selected domestic products are to be subsidised in excise duty
Taxpayers earning Rs 2 million per year to get 90% waiver on tax, Rs 2 million to Rs 5 million to get 75% and Rs 5 million to Rs 10 million to get 50% waiver on income tax
Only 1% income tax to be levied on hotel, aviation industry, travel, trekking, transport and cinema industries affected by COVID-19 pandemic
New businesses will receive 50 percent income tax exemption for first year and 25 percent tax exemption in the second year