Laugh riot in Kabaddi Kabaddi (Film review)
November 28, 2015 | 12:40 pm&nbsp&nbsp&nbsp&nbsp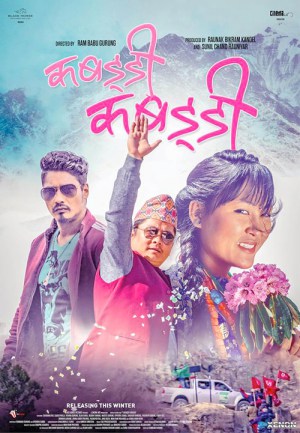 Kathmandu / November 28 :Kabaddi gave a story of unrequited love of Kaji (Dayahang Rai) for his soltini Maiya last year. As it was a good film with ample humour, the thoroughly entertaining film got all the love from the audience. One year has passed in Naurikot, Mustang and Kaji is back with Kabaddi Kabaddi. His love for Maiya has not changed, but Maiya is no different. She doesn't reciprocate his feeling. She has a new admirer, Kaji's rival — Bum Kaji. Both the Kajis compete with each other to win Maiya, but who will Maiya choose? The nearly two-hour-long entertaining journey unveils the winner.
Kabaddi Kabaddi takes you on a fun comical ride filled with laughter, laughter and more laughter. The film tickles your funny bone to the most but without compromising the story and performances which is very rare in Nepali films.
Kabaddi Kabaddi is the continued story of Kabaddi's Kaji and Maiya. Retelling the same unrequited love story and romance of the two could have been dull but Rambabu Gurung has written the story brilliantly and articulately, and with intrigue and has directed with the same passion. As such the story has evolved along with the characters. The screenplay by director Gurung and Upendra Subba is also noteworthy.
The character of Bum Kaji, politics and sub-plots of Kaji's two friends with tidbits of music and action have been mixed to the love story. This nice mixology brings life to the film and thumbs up for it!
Also, the nuanced message of how politics works and how a husband and wife should be is a breather.
However, there are a few things that don't add up. Maiya is the same and hasn't matured despite going through a lot in the first film. Bibek's character (Nischal Basnet) again makes an appearance as Bum Kaji's friend but their relationship hasn't been explored to rest the curiosity of the audience. Perhaps, there is room for another Kabaddi film.
But Kaji is as lovely as before. You will feel for him and love him despite knowing how useless he is. This role is proof that Rai is the king of comedy — bringing diversity in comic roles, he has the knack for executing his act with ease.
(Source: Himalayan Times Daily)