Government to support transport entrepreneurs: DPM Thapa
January 9, 2016 | 9:18 pm&nbsp&nbsp&nbsp&nbsp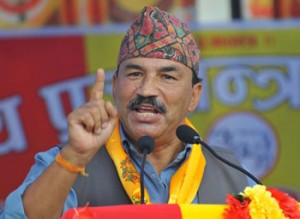 Hetauda / January 9: Deputy Prime Minister and Minister for local development Kamal Thapa has said that the government was striving for infrastructure development and thereby economic development of the country.
Inaugurating the 29th annual general meeting of Narayani Transport Entrepreneurs Association in Hetauda today, he said we lost two decades in political bickerings, and hence with the new constitution already in place all political parties should now focus on economic prosperity.
Recognizing the transport entrepreneurs' investment worth millions of rupees in the transport sector, DPM Thapa said the entrepreneurs should serve impartially to ensure regular transportation service to the people through the road network that the government is expanding across the country. The government will help transport entrepreneurs who have acquired loan for their business.
On the occasion, CA member Ram Narayan Bidari, Indra Baniya, Ananta Poudel and President of the Association Badri Prasad Chaulai said the government should come to the rescue of the transport sector that has lost millions due to the Tarai movement and the border blockade.
They also called for a separate ministry of transport for focused development of the transportation sector.
Also today, DPM Thapa laid the foundation stone of the Rastrabad Youth Club building to be constructed at Sano Pokhara in Hetauda municipality-5. RSS