Floods, landslides kill 38 in Pyuthan in two days alone
July 27, 2016 | 10:53 pm&nbsp&nbsp&nbsp&nbsp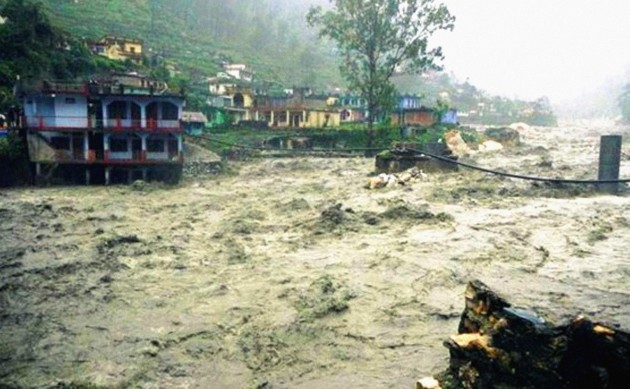 CT Pokhrel / Pyuthan, July 27: The death toll in the floods and landslides triggered by the torrential rainfall that occurred in the district in the past two days has reached 38, according to the District Administration Office, Pyuthan.
Of the victims include central member of the CPN (Maoist-Centre) Hari Bahadur KC and his spouse Bindu, who were buried in the landslide that occurred from the hills above their house on Monday night.
Phopli VDC of the district suffered worst where 14 persons from three wards of the VDC died in the disasters. Those killed in the landslides are Chetman Pun, Sher Bahadur Pun, Narayan KC, Drona Bahadur KC, Pabitra KC, Hari Bahadur KC, his wife Bindu, Jaheshwor Budhathoki and Pima Budhathoki, and two children.
Others killed in the landslide are Setu pun, Shere Pun, Domanta Pun, Kumari Pun, Chetima Pun, Nandi Pun, Khopli Pun, Mane Pun, Sagar Pun, Somali Pun, Chhami Pun and an infant from Phopli VDC.
Similarly, Argha area located in the northern belt of the district witnessed the death of three persons from the same family in the landslide. The dead were Deb Bahadur Budha, Himal Budha and a woman.
Other casualties are from Khawang- Dil Maya KC, Dabile Sunar and DK Sunar.
Moreover, the District Police Office informed that Supari Malla and his son Mukesh from Puja-1 died in the landslides.
Three persons died in Lung-6. They were Shiva Bahadur Sunar, Ranjana KC and Sushila KC.
Meanwhile, those missing since the landslides are Chetman Pun, his daughter, Chetana Pun, her son and daughter, Man Bahadur Pun, his mother from Phopli-3; while Shova Rijal, Kali Pariyar, and Kiran Thapa from Lung-3, and Kuturi Sunar from Khawang-3.
Lack of resources and obstruction of roads have badly hampered the rescue works in most of the disaster-hit areas. Even the relief distribution has been difficult, the local authorities have said. RSS