Chandranahar irrigation canal in Saptari repaired
November 2, 2016 | 9:32 pm&nbsp&nbsp&nbsp&nbsp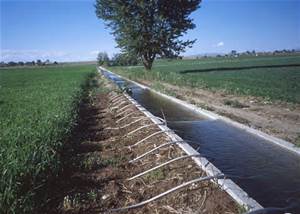 Saptari / Nov 2: The Chandranahar Irrigation Management Division Office in Saptari district has repaired many canals, including the Chandra canal, that were in a sorry state.
The Division Office carried out maintenance of the Koshi Channel Pump System, Chandranahar System, Koshi West Distribution Channel among others channels at the cost of Rs 210 million.
Office chief Prasun Mishra said Rs 177.5 million has been spent on the rehabilitation and management handover of the irrigation project. Similarly, Rs 32.9 million was spent on operation and maintenance of the irrigation canal and on operating the pump.
The total lengh of the irrigation canal including the branch canals and subsidiary canals is about 500 kilometres. The command area of the irrigation project is 50 thousand bigahas of land. RSS