Wagle's 'Ankirna Ankha' released
November 5, 2016 | 9:10 pm&nbsp&nbsp&nbsp&nbsp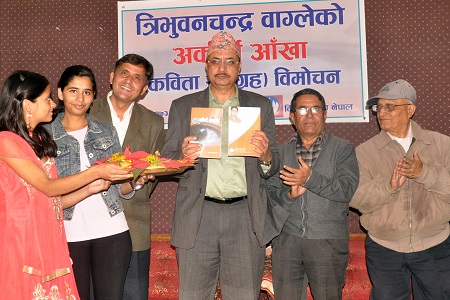 Kathmandu / Nov 5: The 'Ankirna Aankha', an anthology of poems penned by journalist and litterateur Tribhuvan Chandra Wagle was released amidst a function here today.
Nepal Academy Vice Chancellor, Dr Bishnu Bibhu Ghimire, released the anthology at a programme organized by Bikash Manch Nepal.
Vice Chancellor Ghimire said the poems written by Wagle were artistic, relevant and message – oriented and presented in simple language. He added that Wagle has a vast potential in writing poems.
Song writer and critic, Dr Krishna Hari Baral, said the anthology consisted realistic and critical poems and that the poet has lent justice to the poems.
Litterateur, Ashesh Malla, said the poem structure with fiction would draw the attention of the readers. Litterateur and journalist, Hari Adhikari, said the poem collection had presented contemporary issues and the Nepali society.
National News Agency (RSS) Chairman, Kul Chandra Wagle, shared his satisfaction that poet Tribhuvan Chandra Wagle has given continuity to the trend set by his ancestors.
Former ambassador, Dr Mohan Lohani, Prof Dr Kumar Koirala, Gorkhapatra Daily's Managing Editor, Sri Om Shrestha, and Manch's Chairman, Sharada Poudel, urged Wagle to give continuity to his literary journey.
The anthology published by the Manch includes 61 different poems including 'Mero Kabita', 'Ghoda ra Dubo', 'Kranti' and 'Darjiko Dailo'. The poems have touched on the subjects of the country, love, nature, culture and profession. RSS