Chhath Festival: Arghya offered to the setting Sun; President, VP and PM pay homage to Sun God, Goddess
November 6, 2016 | 9:00 pm&nbsp&nbsp&nbsp&nbsp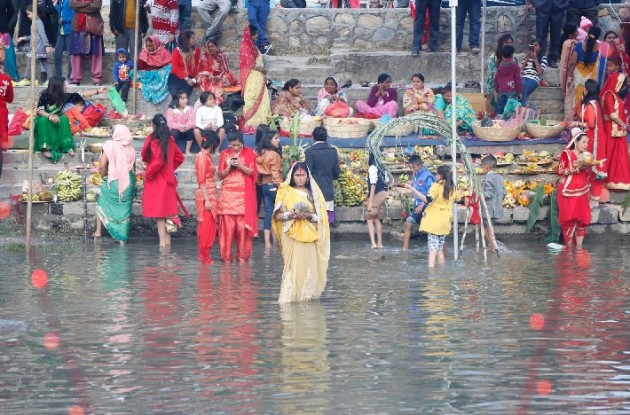 Kathmandu / Nov 6: On the third day of the Chhath, festival dedicated to the Sun God and Chhathimai ( Goddess), devotes here offered arghya (curd) to the setting sun.
The devotees have gathered on the holy river banks including at Gangasagar, Dhanushsagar, Argaja, Maharajsagar, Bishhar and Muralisar and, Agnikunda ( Agni pond ) to worship the setting sun with the established rituals. They made offerings of Thekuwa and Kasar ( special sweet dish made of flour), banana, sugarcane, papaya, food grains, wild fruits and other vegetables.
The Chhath festival that used to be mainly observed in the Tarai districts until some years back is gradually becoming popular among the hilly people including in the capital of late.
It usually falls between October and November in the Gregorian calendar. The Sun considered as the God of Energy and of the Life-force, is worshiped during the Chhath festival to promote well-being, prosperity and progress. The festival ends tomorrow with offering arghya to the rising Sun.
Meanwhile, President Bidya Devi Bhandari visited the Bagmati River bank at Gaurighat and Kamalpokhari ( pond) this evening to pay homage to the Sun God and Goddess (Usha or Chhathimai) on the occasion of the third day of the Chhath Festival.
Likewise, Vice President Nanda Bahadur Pun was at the local Kamalpokharai to worship the Sun God and Goddess.
The four-day festival is being celebrated in the Terai districts and in the capital with fanfare. Riverbanks and ponds where the devotees have thronged to worship the setting sun have been given bridal looks.
Meanwhile, Prime Minister Pushpa Kamal Dahal visited the Bangamti, Ranipokhari and Kamal Pokhari to pay homage to the Sun God and Goddress Chhathimai this evening. RSS