Dialysis completely free
November 7, 2016 | 10:00 pm&nbsp&nbsp&nbsp&nbsp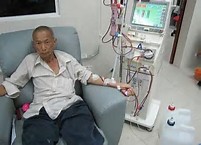 Kathmandu / Nov 7: The Ministry of Health has directed the concerned hospitals to implement the decision to make dialysis for kidney patients completely free.
Prior to this, the free service was available for only twice in a week. Now, no fee will be charged for any number of dialysis service. The Medical Service Division under the Ministry has sent a circular to the concerned hospitals to make the dialysis completely free.
There are currently 32 hospitals across the country that are providing free dialysis service for the kidney patients. The ministry has also allocated necessary budget for the hospitals to purchase the required dialysis machine to implement the latest directive.
A patient suffering from kidney failure has to undergo dialysis for at least three times in a week, until the kidney transplantation is carried out, according to Director of the Human Organ Transplantation Centre, Dr Pukar Chandra Shrestha. A dialysis service otherwise would cost Rs. 2,500 per service. RSS