PM commits to speed up post-quake reconstructions
November 12, 2016 | 3:49 am&nbsp&nbsp&nbsp&nbsp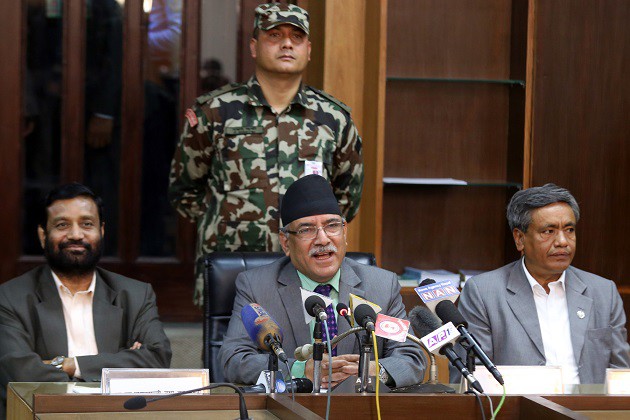 Kathmandu / Nov 11: Prime Minister Pushpa Kamal Dahal has made commitment to expedite the post-quake reconstructions.
During a press meet at Office of the Prime Minister and Council of Ministers in Singha Durbar on Friday evening relating to the government activities on completion of 100 days, PM Dahal claimed that the economic indicators were positive, while relations with neighbours improved, and development works speeded up with increasing people's trust on government.
Of the total 5,33,782 households entitled to the grants from 14 districts, agreements have been reached with 4,69,247 households t, PM Dahal, adding first tranche of the grant had already been released for the quake survivors.
Similarly in order to increase capital expenditure, various 15 ministries had been directed to implement the budget at a speedy pace, PM said, adding that monitoring activities had been stepped up to control black marketing while expanding tax net.
Sharing the information that he has directed the concerned ministries and projects staffs to complete nation's pride projects within the slated time, PM Dahal said that there would not be budget crunch to the projects and programmes kept in priority.
According to him, successful test on making Kathmandu Valley load-shedding free, trade agreement with India, protocol draft sent to Chinese side for implementation of Nepal-China Transport Agreement and mobilization of a team for Nepal-India border survey were some achievements of the government.
The PM added that Youth Self-Employment programme has been expanded to 75 districts and medical officers appointed at primary health centres.
CPN (Maoist Centre) Chairman Dahal was elected Prime Minister from the Legislature-Parliament on August 3, 2016. RSS