Movie Review: Dear Zindagi
November 26, 2016 | 2:01 pm&nbsp&nbsp&nbsp&nbsp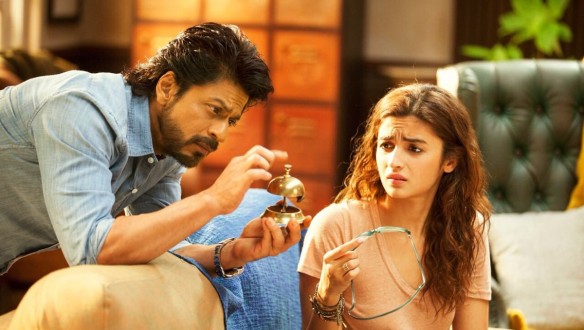 Kathmandu / Nov 26: During their first therapy session in his expansive, sun-dappled consulting room, Jehangir Khan (Shah Rukh Khan) tells Kaira (Alia Bhatt) the story of a man, his Chinese companions, a snow leopard and Mount Everest. There's humour in the story, but also a message for young Kaira that resonates within her. The next morning, she attempts to recount the story to her friends but stumbles and stammers out a tale that has none of the original quality or charm.
The script of "Dear Zindagi" is like the story. On paper, writer-director Gauri Shinde's tale about a troubled young girl and her dapper therapist must have looked like it had the right dose humour and message. But the end product, much like a game of Chinese Whispers, is mostly garbled and incoherent.
Kaira is a young cinematographer who always seems to be on edge. She flits from one relationship to the other, is rude to everyone around her, and can barely look beyond herself. When her landlord asks her to vacate her apartment, she moans to her friend, "I am going to be homeless in this city" – completely trivialising what being homeless really means.
She moves to her parent's house in Goa and all her pent-up angst comes to the surface again. A chance meeting with Jehangir "Jug" Khan, a psychologist who, by his own admission, doesn't always play by rules, prompts Kaira to seek therapy. Khan is effortlessly charming in his role, channeling his "Chak De" persona – a father figure who is silently rooting for his young charge as she negotiates rough waters.
Shinde gives us many poignant moments between the two, but she also feels the need to punctuate the narrative with punch lines, which ends up making the whole narrative ring false. In a telling scene, Kaira and her friends tell each other "Hamein apni baatein record karni chahiye" (we should record our conversations) because they are so taken with how brilliant their conversations are. The need to explain every moment and articulate every emotion pulls down "Dear Zindagi"; even the brilliant chemistry between the two leads cannot salvage the film from this fatal flaw.
For all its talk of openness and acceptance, the morality of "Dear Zindagi" is so precarious that the makers would rather beep out the word "slut" and balk at the very thought of a romance between a middle-aged man and a woman in her 20s.
The highlight of the film is Alia Bhatt, who pulls off her second brilliant performance of the year after "Udta Punjab". The focus is entirely on her and she doesn't shy away, facing even tough scenes with a natural confidence and maturity that belies her age. "Dear Zindagi" might not be a love letter to life it was intended to be, but Bhatt and Khan make this one worth watching. Reuters