PM boards Sajha to his Office; says govt working to end anarchy in transport system
November 27, 2016 | 10:29 pm&nbsp&nbsp&nbsp&nbsp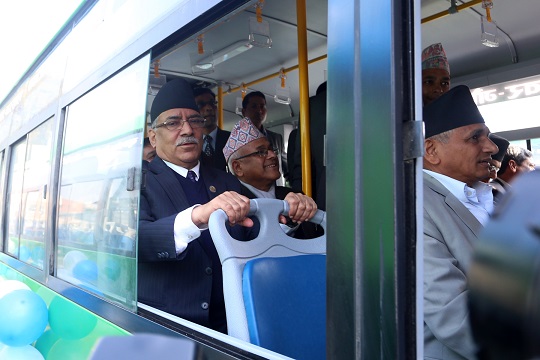 Kathmandu / Nov 27: Prime Minister Pushpa Kamal Dahal has said that the government was working to implement policy and plans of reforms in the transport sector to end the anarchy in the transport management system of the country.
"And in this regard, the effort of Sajha transport service is exemplary," he said after flagging off a new fleet of passenger buses brought into service by Sajha cooperatives today. The Prime Minister also shared that the Kathmandu Valley Development Authority was being organized through an Act to make urban as well as transport management more effective in the valley.
Chief Executive of Kathmandu Metropolis Rudra Singh Tamang said the Metropolis has collaborated with Sajha to facilitate public transportation with an investment of 100 million rupees. It will be adding another 50 million rupees to reach the service of Sajha to major destinations of the country from Kathmandu.
Chairperson of Sajha Yatayat Kanak Mani Dixit pointed out the need for new policy for urban transport management. The Sajha today began service to four routes in the valley, with an addition of 30 new buses. This takes the fleet of Sajha to 38.
PM boards Sajha to his Office
After inaugurating the new bus service by Sajha at Pulchowk, Prime Minister Dahal boarded one of the new buses (Ba. 4 Kha. 5655) to his office in Singha Durbar. Also accompanying were Minister for Physical Infrastructure and Transport Ramesh Lekhak, Minister for Federal Affairs and Local Development Hitraj Pandey, Minister for Cooperatives and Poverty Alleviation Hridayaram Thani and other distinguished personalities.
The latest fleet of bus by Sajha follows the urban standards and is equipped with modern amenities including CCTV, mobile charger and LED TV. All the buses are disabled-friendly with the back door allowing passage to passengers on wheel chairs. RSS