Newly appointed state minister take oath of office and secrecy
November 30, 2016 | 10:36 pm&nbsp&nbsp&nbsp&nbsp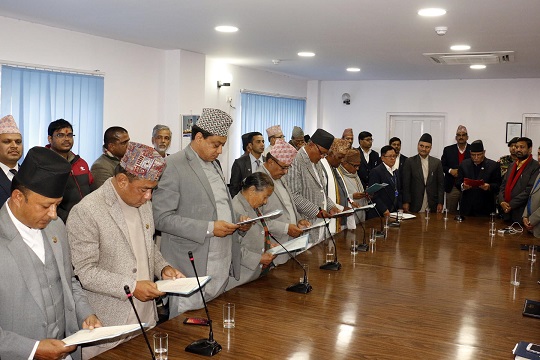 Kathmandu / Nov 30: Prime Minister Pushpa Kamal Dahal has expanded his cabinet today.
At a special programme organised at the Office of the Prime Minister, Prime Minister Pushpa Kamal Dahal administered the oath of office and secrecy to newly appointed 10 state ministers representing the Nepali Congress.
Accordingly, Dirgharaj Bhat has been appointed as Minister of State for Physical Infrastructure and Transport, Sitaram Mehata for Forest and Soil Conservation, Kanchan Bade for Industry, Surendra Acharya for Irrigation, Deepak Khadka for Drinking Water and Sanitation, Indra Baniya for Culture, Tourism and Civil Aviation, Mithu Malla for Commerce, Taraman Gurung for Health, Subarna Jwarchan for Urban Development and Dilip Gachchhadar for Labour and Employment.
Present on the occasion were Deputy Prime Minister and Minister for Home Affairs, Bimalendra Nidhi, ministers, leaders of the different political parties and high-level officials of the government. RSS