BNP provides compensation to family of teenage boy killed in tusker attack
April 3, 2017 | 10:49 pm&nbsp&nbsp&nbsp&nbsp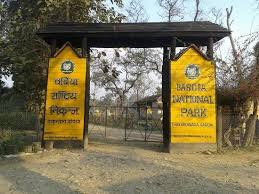 Gulariya / April 3: The Bardiya National Park (BNP) has provided compensation to the family of a teenage boy killed in an attack by a wild elephant straying from the park into the human settlement.
The BNP's acting Chief Conservation Official, Ramesh Thapa, handed over a cheque of one million rupees to the father of the deceased at Thakubaba Municipality – 2 on Sunday.
The locals and relatives of the boy who was trampled to death by the elephant had earlier refused to receive the body.
The Nepal Government has arranged for a compensation of Rs 500,000 for the family of a person killed in an attack by wild animal. An additional Rs 500,000 was arranged at the initiative of Sri Ramnagar Consumer Committee and other non-governmental organizations for the father who lost his only son.
Committee Chairman, Navaraj Neupane, said electrical wire fencing will be placed to prevent the wild elephants from heading into the human settlement from the park.
Bijaya Badi Nepali, 20, of Karmala in Thaku Baba Municipality – 2 located at the BNP buffer zone was killed on March 7 after being trampled by an elephant. As many as six persons have been killed in wild tusker attacks in the villages located at the fringes of the BNP in the last one year. RSS