New constitution amendment proposal of national unity will be registered: PM Dahal; UML for holding polls in the single phase: Oli
April 8, 2017 | 10:31 pm&nbsp&nbsp&nbsp&nbsp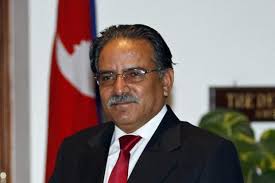 Kathmandu / Apr. 8: Prime Minister Pushpa Kamal Dahal has said that a new proposal on constitution amendment of national unity would be registered at the Parliament, which would be acceptable to Madhes-based parties and main opposition party.
Addressing the 19th anniversary of the Reporters' Club Nepal here today, Prime Minister Dahal said the amendment proposal of national unity, acceptable to all, will be registered and it will unite the country.
Expressing the belief that the proposal would create environment where Madhes, hilly and mountainous region would go for local-level lection at the same time, he urged not to cast any doubt on election as the country has already moved ahead with the determination of election.
The Prime Minister claimed that development would get momentum after the formation of local government, saying the local-level lection would develop basis of holding other two elections in by coming January to make the constitution dynamic.
Saying that he increasingly believed that Nepal's development was possible through cordial relations with both its neighbours, he appealed to all for support in the national unity campaign.
On the occasion, Nepali Congress leader Prakash Man Singh said the local-level election was essential for effective enforcement of the constitution and urged all to join the election. He stressed that Nepal could take the road towards prosperity through development of agriculture and tourism following political stability in the country.
Indian Ambassador to Nepal Manjeev Singh Puri expressed the confidence that Nepal would accelerate its journey towards economic development and prosperity in the days to come.
On the occasion, Prime Minister Dahal inaugurated the online portal of Reporters' Club Nepal.
UML chair Oli flies to Bangkok on follow-up medical trip; says UML for holding polls in the single phase
Meanwhile, CPN (UML) Chair and former Prime Minister K P Sharma Oli on Saturday flew to Bangkok for a follow-up check-up, said Oli's press coordinator Chetan Adhikari.
Oli has been visiting the Bumrungrad International Hospital in the Thai Capital regularly since the kidney transplantation in 2007 and the visit today is also its continuity.
Chair Oli is accompanied by wife Radhika Shakya and nephew Rajesh Bajracharya. Adhikari further informed that chair Oli is scheduled to return home after a week.
Meanwhile, speaking with journalists before boarding the flight, Oli told media at the Tribhuvan International Airport that his party was for holding the polls in the single phase.RSS