President Bhandari in New Delhi; Govt cancels public holiday announced on Friday
April 17, 2017 | 11:07 pm&nbsp&nbsp&nbsp&nbsp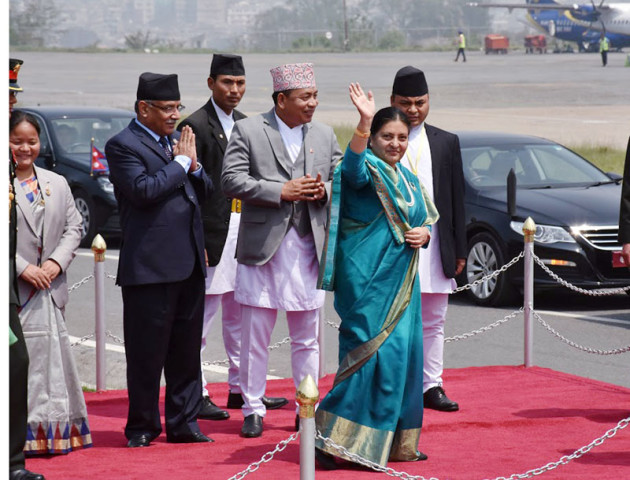 India / Apr. 17: President Bidya Devi Bhandari landed at Indira Gandhi International Airport of India a while ago.
The President arrived here on a five-day official visit at the friendly invitation of her Indian counterpart Pranab Mukherjee.
India's Minister of State for Women and Child Development Krishna Raj was at the airport to receive President Bhandari.
Prior to this, Nepal's Ambassador for India Deep Kumar Upadhyay welcomed the President.Hereafter, the President will head to the Rastrapati Bhawan where she will stay as a state guest.
Govt cancels public holiday announced on Friday
Meanwhile, the government has withdrawn its decision to grant public holiday on Friday on the arrival of President Bidya Devi Bhadnari following a widespread criticisms.
The government rolled back its decision to give public holiday on April 21, the day when President is scheduled to return home after wrapping up her five-day state visit to India.
The government on Sunday decided to declare public holidays on April 17 and 21. The government's decision to that effect was widely criticized by public. RSS