Madhesi parties 'ready' to participate in local elections
April 21, 2017 | 9:42 pm&nbsp&nbsp&nbsp&nbsp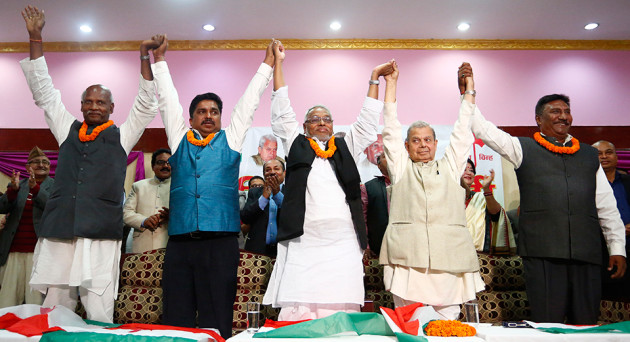 Kathmandu / Apr. 21: The agitating Madhesi parties on Friday hinted that they are ready to take part in the local level elections after the major ruling parties ensured them of addressing their concerns and reviewing the new bill on constitution amendment.
Top leaders of the ruling parties and the Madhesi parties agreed to find a "political way out" through an agreement to resolve differences between them over the constitution amendment and local level elections, the PM's secretariat said in a statement after a second round of meeting between them this evening.
Leaders taking part in the evening meeting expressed their hope of a concrete decision by tomorrow. Today's meeting was very positive and encouraging, Maoist leader Shakti Basnet said.
Following the meeting, Nepali Congress leader Ram Chandra Paudel informed that the leaders agreed to revise the constitution amendment bill focusing on the issues of language of official uses as well as provincial delineation while the UDMF leaders agreed to participate in the election.
"If the government and ruling coalition is ready to revise the constitution amendment bill registered in the parliament, we are also ready to participate in the elections. If we finalize everything regarding the amendment and the election, the election should be postponed for certain time or should be held in two phases," said FSFN co-chair Shrestha.
Meanwhile, Deputy Prime Minister and Home Minister Bimalendra Nidhi said that the elections could be held in two phases if the agitating parties join the polls.