Govt. creating environment to hold elections with participation of all: DPM Thapa
April 22, 2017 | 9:51 pm&nbsp&nbsp&nbsp&nbsp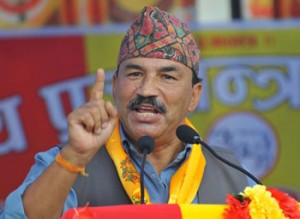 Biratnagar / Apr. 22: Deputy Prime Minister and Minister for Federal Affairs and Local Development, Kamal Thapa, has said that the government has been creating environment conducive to hold election with consensus and participation of all.
Talking to media persons at Biratnagar Airport on Saturday, Deputy Prime Minister Thapa said that the government has been holding continuous talks with Madhesi Morcha for the same. Stating that the local-level elections would be held in two phases if consensus was forged with Madhesi Morcha, he said that the Madhesi Morcha has demanded increasing the number of local units.
The Deputy Prime Minister said that there would be no situation to hold local-level election in a single phase on May 14 if consensus was forged with the Madhesi Morcha and clarified that consensus would be forged to hold the elections in some districts within last week of May in second phase.
He shared that understanding should be reached with the main opposition party, the CPN-UML before forging consensus with the Madhesi Morcha in this regard.
Responding to media persons, DPM Thapa voting rights should be given to local-level people's representatives in the National Assembly election. RSS