Army will come to fore only in need: Defense Minister
April 26, 2017 | 10:49 pm&nbsp&nbsp&nbsp&nbsp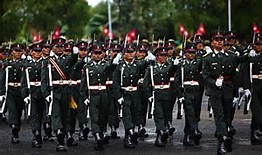 Kathmandu / Apr. 26:Defense Minister Balkrishna Khand has said the Nepal Army is all committed to guaranteeing security in the upcoming local-level election.
Taking part in a face-to-face programme organised by the Reporters' Club here today, the Defense Minister, recalling the role of NA in security arrangements in the Constituent Assembly (CA) elections, stated, "This time, too, the NA is ready to ensure security of voters and employees to be deputed for the election purpose and of ballot boxes."
The responsibility of guarding the inner cordon will be taken by the Nepal Police personnel who will be followed by the Armed Police Force and there will be the NA personnel, only if necessary, in the outer cordon for the security of all to be present in the election, according to the Defense Minister. "
He said the government would mobilise the NA only if necessary in the election, adding that it seemed that the Nepal Police and APF would be enough for the security in the election as it was to be organised in two phases. "If the help of NA in the security arrangements is not needed, it will observe the election inside from the barracks. It only comes to the fore only in need."
On the occasion, he shared that a National Defense Security Police was forthcoming. The government had already agreed in principle in regard of bringing the defense security policy.
Minister Khand who represents the Nepali Congress in the coalition government claimed that a new government to be formed under the leadership of NC President Sher Bahadur Deuba after the May 14 election would bring a new budget. However, the coalition between the NC and CPN (Maoist Center) would continue until the completion of all three tiers election.
He took the time to say that the revised constitution amendment proposal was brought with the objective of maintaining peace and security, managing conflict and successfully holding the election of all levels. RSS