Govt proposes to link Kerung-Kathmandu-Pokhara-Lumbini with OBOR
April 28, 2017 | 9:50 pm&nbsp&nbsp&nbsp&nbsp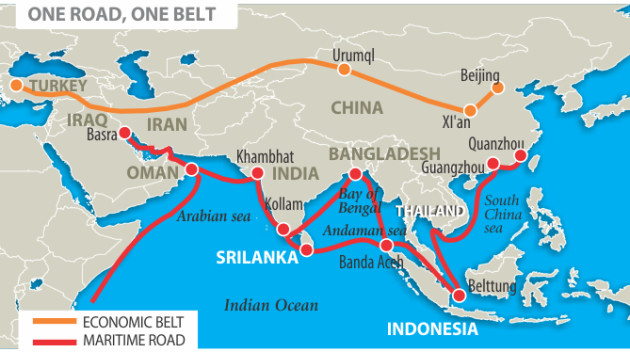 Kathmandu / Apr. 28:The government has proposed Kerung-Kathmandu-Pokhara-Lumbini railway to be a part of ' One Belt One Road' project initiated by China.
Addressing a seminar on 'One Belt One Road Initiative and the South Asia' organised by the China Study Centre and Nepal Institute for Strategic Studies here on Friday, Deputy Prime Minister Krishna Bahadur Mahara informed about this.
"The government of Nepal is of view that the OBOR is a very good initiative that helps the region boost economic and technical cooperation," he said, adding, Nepal was in the final stage to ink this initiative from its side which, as it believed, is really a far-sighted vision put forth by Chinese President Xi Jinping.
As the connectivity and trade were Nepal's priority, it could benefit a lot from this initiative.
On the occasion, he shared that Prime Minister Pushpa Kamal Dahal in his recent visit to China proposed Kerung-Kathmandu-Pokhara-Lumbini railway to be a part of OBOR.
The necessary preparations are going on for this to materialise soon, according to DPM Mahara.
He went on saying that he personally believed that the seminar would help build an in-depth understanding about OBOR initiatives and its advantages.
"Given the excellent expertise in the panels of the following sessions, I feel that this seminar will be able to come up with concrete idea and the way forward to implement the OBOR in our context," he said, wishing for a grand success of the event.
The DPM further said that the government of Nepal saw a great prospect of this initiative. He thanked the Centre for its joint effort to organise this programme in a timely manner.
Stating that with the promulgation of the constitution, the longstanding political transition was over in the country, he informed the seminar that the government was well set for the upcoming local elections and also preparing for the provincial and federal elections as stipulated by the constitution.
"The elections will be a milestone to institutionalise the federalism in the country," he said.
Nepal is now putting all its efforts for rapid and sustainable economic growth and balanced development. The economic condition of Nepal is gradually improving, he stated. RSS