UML turns down NC's proposal to support amendment bill; 46 proposals registered against amendment bill
April 29, 2017 | 9:32 pm&nbsp&nbsp&nbsp&nbsp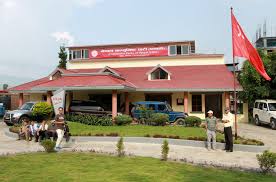 Bhaktapur / Apr. 29:The main opposition CPN-UML has refused the ruling Nepali Congress's proposal of helping to pass the constitution amendment bill.
It was shared in a meeting held between the senior leaders of both parties at UML chair K P Sharma Oli's private residence at Balkot Saturday.
NC leaders including President Sher Bahadur Deuba, senior leader Ram Chandra Poudel and leader Krishna Prasad Sitaula had reached Balkot for the talks in this regard.
On the occasion, President Deuba had urged chairman of the main opposition party to help pass the amendment bill to ensure Madhes based parties' involvement in local polls. In the response, Oli refuted the proposal stating that it was regressive and against the people's will therefore his party could not support it.
Chair Oli further claimed to fail the bill. Following the meeting, NC leader Sitaula shared that the meeting was centred on current political condition and the amendment bill.
Similarly, UML general secretary Ishwar Pokharel also shared that UML turned down NC's proposal to support the bill.
46 proposals registered against amendment bill
Meanwhile, forty-six proposals have been registered in the parliament against the constitution amendment bill as the time window provided to register the proposals nears to an end.
Thirty-one proposals have been registered by the main opposition CPN-UML while the remaining proposals were registered by other fringe parties.
The ruling parties, in an agreement with Madhesi parties, had agreed to register amendment proposals to the bill but no proposals have been registered so far. The time to register an amendment to the bill ends at 10 pm on Saturday.
PM Pushpa Kamal Dahal had summoned an all-party meeting on Friday to forge consensus on the bill while Nepali Congress President Sher Bahadur Deuba had reached UML Chairman KP Sharma Oli's residence in Balkot hoping to find a solution.Oli, however, rejected Deuba's request to support the bill. RSS