We want real conversion of our students beyond religion: Fr. Boniface Tigga, Regional Superior of Nepal Jesuit Society
July 17, 2017 | 9:37 am&nbsp&nbsp&nbsp&nbsp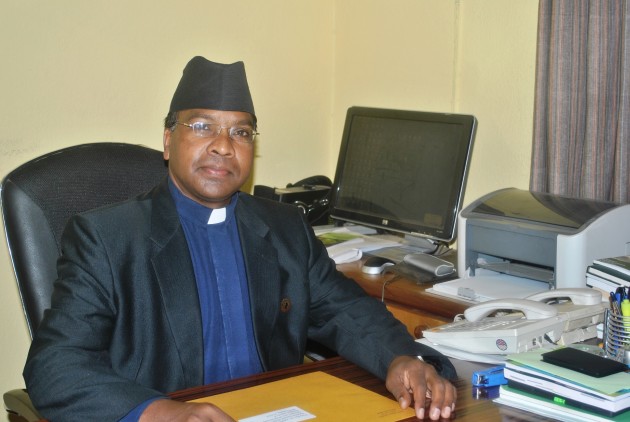 Kathmandu: There is no doubt most middle class Nepali people want to enroll their children in St. Xavier's School as the school is cheap and the quality of education is quiet high. However, only a few lucky parents go through the process and succeed to enroll their children. Nepal Jesuit Society has been praised for consistently providing quality education to children but there are also other sectors where the organization has provided support like in health and social development, to name a few. As we heard from many parents about undue influence for the admission process in St. Xavier's School, we approached the school to talk about the different aspects of education sector. During the interaction with Fr. Boniface Tigga, who is the Regional Superior and the Director of Nepal Jesuit Society, we were surprised to know that they have been able to cover their expenses from the very nominal fees they have been charging to the students compared to the private institutions that charge very high fees. We discussed about various aspects of St. Xavier's School and Nepal Jesuit Society.
Here are excerpts:
Can you shed light on the history of St. Xavier's School and how it is doing at the moment towards providing quality education to thousands of people?
Nepal Jesuit Society has a long history. We came at the invitation of the Government of Nepal in 1951 and started the first school in Godawari. We started the school with 60 students studying in a converted horse stable, which now has provided quality education to nearly 10,000 students. Initially St. Xavier's was started for providing education to boys, but from 1996 we began co-education for both boys and girls. At present, all our schools are co-education.
The school started with sixty students and after four years we started St. Xavier's school Jawalakhel School. At that time, some of the Nepali students used to go to India for education and they wanted such a school in Nepal. In the first 40 years, we were involved in the Education sector only but now we are supporting other initiatives like health and community development. Similarly, we supported many people of earthquake affected districts after the massive earthquake of April 2015.
If you talk about the education sector, currently we have 1000 students in Godawari School, 2,000 students in Jawalakhel, around 3,000 students at St. Xavier's College Maitighar, 762 at St. Xavier's school Deonia, 550 in Moran Memorial school, Maheshpur, 200 in St. Xavier's Sadakbari and 80 students in Simalbari. The school in Pokhara has been providing education to mentally retarded children. We run mobile clinics in 7 districts.
Although many people feel that we are only involved in the education sector, we have also been working in health and community development sectors. After the devastating earthquake we opened a hostel for girl children and provided education to semi-orphan girls. Similarly, we have been involved in school construction in many earthquake affected districts. We also have one training center in Pulchowk where Fathers receive training. The training mainly focuses on three vows of the Jesuit Society which are the vow of obedience, vow of poverty (we refrain from maintaining any personal belongings) and vow of chastity.
After the earthquake we provided immediate relief materials to 88 schools in 11 affected districts. We also rebuilt 45 schools and now we are working on soft components like empowerment, capacity development among others and we have received support for such activities. We are in 114 countries and we have been receiving support from Jesuit Societies across the world. We have Nepal Jesuit Social Institute from where we have been carrying out development work.
Our services are for all, especially for the poor. Even our "flagship" institutions provide head-start programs to help the poor, who receive scholarships, to fit into the schools. All don't graduate but carry on in life with a positive attitude. Many continue on through college. In one generation, the children of illiterate parents become college graduates!
Why do you think many people come to schools run by Nepal Jesuit Society although there has been a sharp rise in the number of private educational institutions and these institutions have been bringing diversity in their curriculum?
People who come to our place could be the best persons to answer the question as the quality of education is the same. However, Jesuits have their educational philosophy as we want to focus on overall and all round development of children and it is blended with the overall development of a human being. We have many extra-curricular activities for overall development of the children and sometimes some parents feel that we are giving too much priority to extra-curricular activities. During my interaction with them I urge all students to be a good human being apart from being a successful person as all persons should contribute to their society. Based on my conversation with parents, what I can tell you is that they got more interested due to our philosophy of overall development. We try to give something that is useful for their whole life so they get attracted to come here. Ramro-sasto! We thrive to train the head, heart and hand. We don't claim to provide the best academic education, but hopefully our graduates succeed because they are people for others.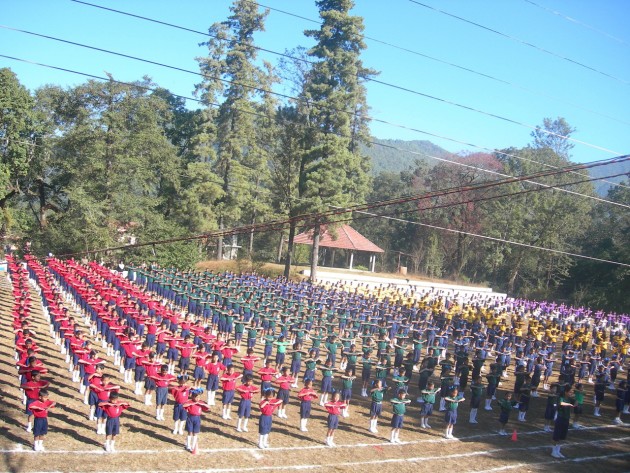 There are rumors in the market that there is undue influence from different quarters during the admission of students. Is this true or why are people saying as such?
We follow the guidelines of the Education Act (Shiksha Niyamawali) for the admissions. Definitely, admission time is a difficult time but it is also the opportunity for us to interact with many people and learn their expectation and their impression about us. We have only 160 seats for admission but the applicants are over 6000, so we are only able to enroll a small percentage of the aspirants. Principal becomes busy with the distribution of forms and responding to all the people visiting the school as we want to be open with all the aspiring students and provide as much information as possible. Definitely, there is pressure from every corner of the society and we face a bit of a challenge to handle it. Our staff especially the Principal is open to meet all the people and inform about the procedure and we clearly communicate with them. However, we receive a lot of recommendation letters from different people, institutions and authorities and try to maintain that merit is followed during the procedures. However, I must acknowledge we have to pay attention to some of these recommendations. We endeavor to do fair enrolment based on merit but in some cases we have to adjust a few cases. We can't ignore the students who have done well but we are limited and helpless in some cases. We are very looking forward for the government to implement a lottery system for admission so that we don't need to face any pressure for admission.
The valley district education officers do not like their position during the admission period! Our school administrators rise above admission pressure. We do look for poor youngsters who are smart enough to study in our schools. We do consider children of our graduates. "Like father/mother, like son/daughter!" While being respectful to government representatives, we avoid giving into their pressure.
How do you maintain the quality of education from the reasonable fees you charge? Are you getting money from others for supporting education or are you able to sustain from the fees that you have been collecting?
One of the reasons why people come to St. Xavier's School/College is that the quality of education is very high but the fees are very cheap as compared to other private educational institutions. If you look at our income and expenditure, we have been able to maintain the operational and small development initiatives from the fees we charge the students. We don't need to go to donors for our operational costs. Except for Moran Memorial School, Maheshpur, which started around 15 years ago and most of the students are from deprived communities, our schools have been able to maintain the costs associated with it. However, we need to look for sources from outside for up gradation and construction work. For example, in St Xavier's school Jawalakhel, 12 classrooms, St. Xavier's School Godawari, 15 classrooms, were destroyed during the earthquake and we mobilized some development funds but that was not sufficient to meet the costs, so we requested guardians and former students for their support. The guardians responded very positively and five batches of ex-students constructed one classroom each, so we managed to undertake the work effectively.
We are blessed to have good land and facilities, and supporting alumni/ae that help us. We happily beg money from within and outside Nepal to support the education of the very poor, especially in three of our schools now being developed in Jhapa district. These schools deal mainly with tribal people who work the land in tea estates and farms in the district. That area of Nepal is developing quickly. As development reduces agriculture in the area, the uneducated will be left out. We have only one generation to produce educated young men and women who have the tools to survive in a more modern society.
How are you coping with the problems created by political parties and student unions?
Like other sectors of the country, we are also affected by the transitional political system as this is the regular process. However, we have not had any big problems as we prefer to have open dialogue with all the stakeholders. We were not targeted but we have to face problems when they use blanket approach. For example, when student unions were opposing the recent fee hike they also locked St. Xavier's School. We contacted the concerned authorities about the reason and were told as they have been locking all schools, they have to do it here as well and not because our fees were higher than the one proposed by the government. These types of activities have been affecting the working environment. Even during the Maoist insurgency, people used to come demanding money but we maintained clear communication and showed them our income and expenditure. We never paid any donation during that critical time as well. We do not have any student union related problem at St. Xavier's College as we do not have student union of political parties rather student representatives of each class have been representing the issue of students. There are different groups who run different social initiatives and are involved in creative work rather than creating unnecessary pressure. One of the joyful experiences for me is that the students are planning and going to the field on their own and learning the ground reality of the country from their student life which I believe will be a great asset when they start their professional careers. I found them very keen on supporting the needy people of the communities.
We try to be polite but firm as we face pressures. The on-going political changes in Nepal can be great, if an only if we replace the 'aphno manche' culture with a people for others culture, so that all Nepalis are winners!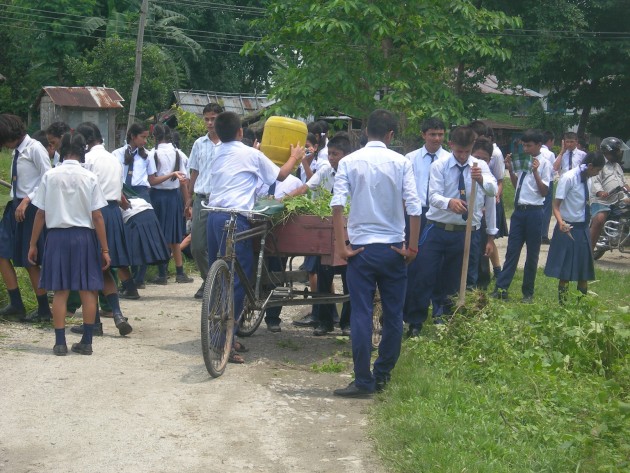 The school has being criticized for spreading Christianity in the country; what is your take on it?
The conversion should produce young men and women who are "for others." We are happy with all religious beliefs, if and only if the believer is truly a person of love, a person who wants the best for everyone in his/her life, including so-called "enemies." I.e. the person believes that every other person is aphno manche. The Jesuit came almost 70 years ago serving in the field of education, health and social services. As far as I know (my 30 years of stay in Nepal) not a single person has been converted into Christianity. I hear there are many incidents of conversion and even after the earthquake some Christian people forced people to change their religion for getting support or put a Bible in the relief package which is a very wrong thing. There are many Christian groups and we belong to the Roman Catholic and we have not converted a single person even though thousands of people have studied in St. Xavier's School and College. My understanding is that the real conversion should be in the conversion of heart and we believe in following the religion by heart and becoming a true follower of your religion whether you are Hindu or Muslim or Christian. Be faithful to the teaching of your religion and it is good for the society. The main aim of the education is to make a good human being, not changing the religion. We want real conversion of our students beyond the religion. We wish that our students become the agents of positive social change. We respect all religions and challenge all people to live the Jesus challenge: "Love one another as I have loved you." (John 15: 13).
What are the future plans of your institution; do you have any plan of expanding your work?
We are also involved in health services in seven districts through mobile clinics. We have been thinking about how to expand our services to the unreached areas and working on it. A team of Fathers including me conducted assessment for expansion in Western Nepal. We plan to start something in the earthquake affected districts and also in Western Nepal. We have visited some districts of Karnali region for the assessment, we want to reach the unreached areas and provide services to the people who are in dire need of such support. This may not happen overnight but we have long term plans for this. In the near future, we plan to reach 3-4 places where there is a need. We plan to reach the unreached people even in the accessible areas. For example, some areas of the Tarai also have very low literacy levels and children do not have access to quality education. Our specialty is education but we link our mission to education, social and health and we want to serve the communities there.
We hope to adapt to a changing Nepal, keeping our institutions up to date in their service to all people, especially the poor. We therefore stress good on-going education for all our staff members, giving them skills in their service and challenging them to strive to live up to Jesus' challenge to love all.
Do you have any message for our readers?
I would like to thank Nepalekhabar for taking the extra mile to spread positive vibration in the society. Let's continue together to spread joy and positive vibration to create a better society. May your efforts touch and transform the heart of every citizen of the world! It is important that we (together) highlight the positive vibration and positive energy in the society. We need to have positive thoughts and creative ideas which need to be spread. Positive vibration should come from the mind and heart of the people and it should spread so that all get connected with it. I would like to thank you for taking the lead for spreading positivity in the society. May the people of Nepal be one in mind, heart and spirit!
(Editor's Note: Nepalekhabar.com is a news portal trying to spread positive information in the society. We endeavor to give space to positive thoughts rather than spreading sensational information. How do you find this interview, please send your comments at: editor@nepalekhabar.com or editor.nepalekhabar@gmail.com)