Indian External Affairs Minister calls on Prez Bhandari, PM Deuba
August 10, 2017 | 9:43 pm&nbsp&nbsp&nbsp&nbsp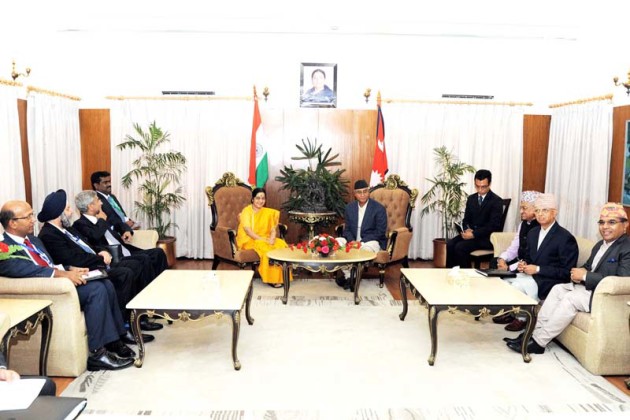 Kathmandu / Aug. 10: Visiting External Affairs Minister of India, Sushma Swaraj paid a courtesy call on President Bidya Devi Bhandari on Thursday.
During the meeting held at Sheetal Niwas, matters regarding the strengthening of historical and friendly relations between the two countries were discussed, reads a press release issued by Spokesperson of the Office of the President, Mohan Prasad Wagle.
Present on the occasion were Nepali Ambassador to India, Deep Kumar Upadhyay, Indian Ambassador to Nepal, Manjeev Singh Puri and high-officials of both governments.
Likewise, Indian External Affairs Minister Swaraj called on Prime Minister Sher Bahadur Deuba at the latter's official residence in Baluwatar and discussed Nepal-India relations, bilateral interest and cooperation, said PM Deuba's Foreign Affairs Advisor Dr Dinesh Bhattarai.
Prime Minister Deuba's upcoming visit to India scheduled to begin on August 23 was also discussed during the meeting.
On the occasion, Minister Swaraj said India was looking forward to welcoming Prime Minister Deuba and that both the countries should work together to make the visit a success", said Bhattarai quoting Minister Swaraj as saying.
Indian External Affairs Minister Swaraj arrived here earlier today to participate in the ministerial meeting of BIMSTEC member states being held in the capital. RSS