EC holds talks with high officials regarding local polls in Province 2
August 12, 2017 | 9:35 pm&nbsp&nbsp&nbsp&nbsp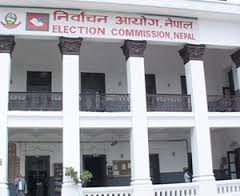 Kathmandu / Aug. 12:The Election Commission has on Saturday held discussions with the government chief secretary and the high officials of the ministries concerned focusing on the local level election scheduled to be held in Province 2 on September 18.
The discussion was chaired by Chief Election Commissioner Dr. Ayodhee Prasad Yadav.
EC spokesman Surya Prasad Sharma shared that the discussions were mainly focused on the verdict of the Supreme Court approving the Council of Minister's decision regarding increasing the number of local level in Province 2 and the local level election scheduled for September 18 in the same province.
He said the discussion made a decision that the related bodies of the government would carry out the works under their responsibility including the task of managing the employees at the local level in Province 2 vigorously once the copy of the Supreme Court verdict was received.
It is estimated that the number of local levels in Province 2 might increase by nine after the court decision. There are 127 local levels in this province. However, the major political parties have yet to agree on this.
With the Supreme Court decision, the EC will now have to carry out additional works related to preparing the voters list, the voters identity card and human resources management at the local level which have been added. The EC had been already working on the management of all the election materials and other paraphernalia required for conducting the election in that province.
The permanent address of many voters will be changed with the increase in the number of local levels. The commission has already printed the ballots required for the third phase local level election in the province before this.
Election commissioners Narendra Dahal, Ishwari Prasad Poudyal and Sudhir Kumar Shah, the secretaries at the Ministry of General Administration and the Ministry of Law, and the joint secretary at the Ministry of Federal Affairs and Local Development took part in the discussions. RSS