PM Deuba visits flood-hit Banke, distributes relief; CPN-MC Chair Dahal urges political parties to unite in time of natural disaster
August 17, 2017 | 9:16 pm&nbsp&nbsp&nbsp&nbsp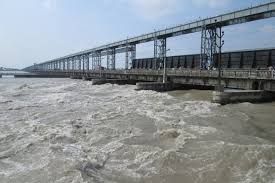 Nepalgunj / Aug. 17: Prime Minister Sher Bahadur Deuba has arrived Thursday in Banke to take stock of flood-hit areas in the Tarai districts of mid-western Nepal.
He inspected the flood- affected areas and provided cash assistance to the bereaved father Kamilal Tharu of Lalpur, Rapti-Sonari Rural Municipality-4 who had lost his three daughters to the disaster on August 13.
PM Deuba handed a cheque of Rs 600,000 to Tharu, father of victim children- 12-year-old Anju, nine-year-old Sarita and seven-year-old Susmita.
Earlier, the government had announced a relief package of Rs 200,000 each to the bereaved family.
Likewise, the PM provided a relief package including edible oil, noodles, bitten rice, salt packet, mineral water and tents to the flood affected locals.
Speaking in the programme, he directed the authorities concerned to leave no stone unturned while carrying out rescue and relief operations. He further urged all to support the victims in the adverse situation they are facing. He added that the government was committed to reaching to the disaster survivors with relief as soon as possible.
Earlier, Regional Administrator of Mid-Western Region, Mahendra Prasad Humagain and Nepal Army No-4 Division Commander Karmendra Limbu had briefed the Prime Minister about the current status of floods, rescue, and relief operations in Banke, Bardiya, Dang and Surkhet.
The PM is scheduled to visit Bardiya and Kailai districts to inspect the flood affected areas there today itself, said Banke chief district officer Ramesh Kumar KC.
CPN-MC Chair Dahal urges political parties to unite in time of natural disaster
Meanwhile, chairman of CPN Maoist Centre Pushpa Kamal Dahal has urged all political parties to come together and engage in rescue operation and relief distribution in the wake of flooding and landslides that have caused havoc in Tarai districts.
Talking to mediapersons at Janakpur Airport today, the former Prime Minister stress the need for all parties to unite and help in time of a natural disaster, irrespective of their role either as the ruling or the opposition.
Stating that he urged the all party meeting held on Wednesday to lend a hand in rescue and relief efforts, leader Dahal said adding that people from hill were eager in providing help.
CPN-MC Chair Dahal was in the district to attend a programme organised today to unveil the statue of martyr Chandeshwar Mandal on the occasion of the Memorial Day of Mandal.
He took the time to call on one and all for helping flood and landslide victims, recalling help provided by people of Tarai Madhes during the earthquake of April 2015.
Giving his views about the Constitution amendment proposal, he expressed hope that the proposal would be passed by August 21. The main opposition CPN-UML was positive about finalising the proposal, despite its discontent over it. RSS