Those completing 18 years on August 21 eligible to vote; RJPN to participate in elections
August 24, 2017 | 9:05 pm&nbsp&nbsp&nbsp&nbsp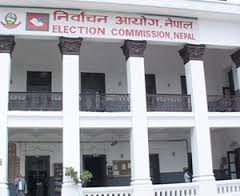 Kathmandu / Aug. 24: The Election Commission (EC) has said that those who have completed eighteen years on August 21 and registered their names in the biometric voters list would be eligible to vote in the coming elections of the house of representatives and of the provincial assembly.
A meeting chaired by Chief Election Commissioner Dr Ayodhee Prasad Yadav took a decision in this regard at the Commission on Thursday. The government has already declared the date of the election of the House of Representatives and of province for November 26 later this year.
EC Spokesperson Surya Prasad Sharma informed that the EC fixed the date for those to be eligible voters in line with Section 6 (b) of Voters' List Act-2073.
RJPN to participate in elections
Meanwhile, the Rastriya Janata Party Nepal (RJPN) has decided to participate in all levels of election including the upcoming third phase of the local level elections.
In a press meet after the meeting of presidium held at the party office on Thursday, the party announced that it has formally decided to take part in the elections. The party will carry a cycle as the symbol for the elections.
Following the decision, speaking at the press meet, the members of the presidium criticized the main opposition CPN-UML for voting against the constitution amendment bill and added that the party is against the sentiments of Madheshi people.
Likewise, the party has criticized the government and said that the government could not maintain the favorable situation for the constitution amendment.
The party has also decided to deploy eight leaders as the central monitor of the party to select the candidates for the upcoming local level polls.