PM Deuba meets Indian leaders; PM's statement hurts national dignity: Leader Oli
August 25, 2017 | 9:21 pm&nbsp&nbsp&nbsp&nbsp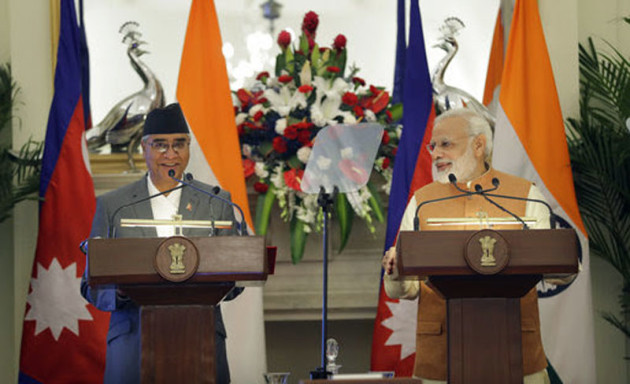 New Delhi / Aug. 25: Senior leaders of major political parties of India called on Prime Minister Sher Bahadur Deuba who is on a five-day state visit to India on Thursday.
During the meeting held at the Rastrapati Bhawan, New Delhi, PM Deuba held talks with Bharatiya Janata Party's general secretary Ram Madhav and leader Subramanian Swamy, Janata Dal (United) leaders KC Tyagi and Sharad Yadav, Communist Party of India (Marxist) leader Sitaram Yechury.
Likewise, Indian National Security Adviser Ajit Doval also called on PM Deuba. On the occasion, matters relating to mutual interest, bilateral relations and Nepal-India contemporary politics were discussed, according to Nepali Ambassador to India, Deep Kumar Upadhyay.
PM Deuba travelling to Hyderabad today
Prime Minister Sher Bahadur Deuba will be leaving for Hyderabad, the capital city of the southern Indian State of Telangana, on a special chartered flight from New Delhi today at 12 noon today.
PM Deuba, during his visit to Hyderabad, is scheduled to inspect Hitech City and take stock of the progresses India has made in the realm of information and technology.
Thereafter, Deuba, who is leading a 48-member delegation team from Nepal, would pay a courtesy call on ESL Narasimhan, Governor of Telangana and Andhra Pradesh, according to the Ministry of Foreign Affairs. RSS
PM's statement hurts national dignity: Leader Oli
Meanwhile, chairperson of CPN-UML, KP Sharma Oli, has claimed that the Prime Minister Sher Bahadur Deuba's recent statement in India has belittled country's dignity.
PM Deuba is currently in a five-day state visit to India at the cordial invitation of his Indian counterpart, Narendra Modi.
Leader Oli, also a former Prime Minister, blamed PM Deuba for delivering his national dignity- threatening statement in the joint press conference held in Indian capital of New Delhi Thursday on the issue of constitution amendment in Nepal.
Talking to journalists at the Tribhuwan International Airport in Kathmandu today before leaving for Bangkok for his health check up, Oli expressed his qualm over PM Deuba's statement to work for increasing acceptability of the new constitution although the constitution could not be amended at the moment.
Oli also drew the attention of the government towards stepping up relief and rescue operation in flood and landslide affected areas. Oli will return home on 30 August. RSS