Sher Bahadur rolls out the red carpet
February 3, 2018 | 9:42 am&nbsp&nbsp&nbsp&nbsp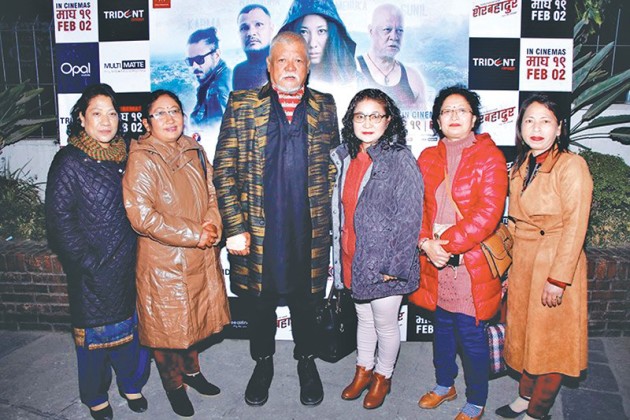 Kathmandu / Feb 02: Sher Bahadur, a thriller which marks the comeback of actor Sunil Thapa in Nepali film industry, premiered amid a red carpet held at Kumari Hall in the Capital on Thursday. The film will release nationwide on Friday. Sher Bahadur is directed by R Rajbansi.
The premiere show was attended by the movers and shakers of Nepali film industry, and speaking to the media, almost all of them offered superlative praise for the film.
"The film has a unique presentation. It is a thriller and, within the thriller, it is also a comedy," comedian and actor Kedar Ghimire said.
While actor Haribansha Acharya said that the film "is not just a thriller but also a 'four-ler'," adding that, "the film is original and unlike any other film made in Nepal so far."
Actor Paul Shah, who has starred in films like Nai Nabhannu La 4 and Johnny Gentleman, among others, said, "The film is very 'thrilling'. It is very frightening. For the two hours runtime we stay inside the theatre with 'suspense'. And in the end, you say wow, so this is how it is."
While Deepashree Niraula, director of the Chhakka Panja series, said, "The film is gripping and the story flows well. Rabindra [actor Rabindra Jha] is excellent at his comedic delivery, and Sunil dai is mind-blowing."
Sunil Thapa: "I should be honest. I would not say everyone should watch the film. It was a unique film, different than any other I have played in so far. To be honest, I think it is a good, beautiful suspense."
Sher Bahadur features actors Menuka Pradhan, Karma, Rabindra Jha, Janwi Bohara, among others. Source: The Kathmandu Post