Deadline for taking 2nd tranche of house grants extended till April 13
February 9, 2018 | 8:22 pm&nbsp&nbsp&nbsp&nbsp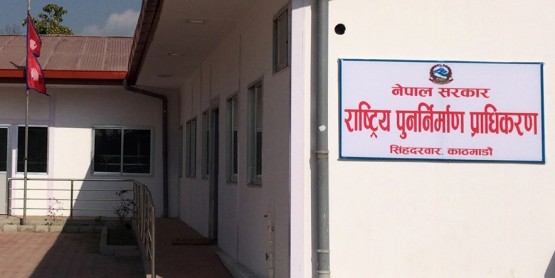 Kathmandu / Feb 09: The National Reconstruction Authority (NRA) has extended the deadline for the beneficiaries for taking the second instalment of the house construction grants until April 13, 2018.
This applies only to those beneficiaries enlisted in the 'beneficiary list' and who have signed the contract for the grant.
The 11th meeting of the NRA steering committee held today at the Prime Minister's official residence at Baluwatar took this decision.
Prior to this a meeting of the steering committee had decided that those earthquake-affected people who had taken the first installment of the house construction grant until January 13, 2017 to construct the foundation of the house by January 13 and take the second installment.
The meeting was presided over by Prime Minister and steering committee Chairman Sher Bahadur Deuba.
Addressing the meeting, Prime Minister Deuba said the post-earthquake reconstruction works were progressing in a satisfactory manner despite various challenges.
Committee member and Finance Minister Gyanendra Bahadur Karki said efforts are on for managing resources for the additional Rs 100,000 grant that the government has decided to provide to the quake survivors.
"The decision to provide additional Rs 100,000 has been made as the quake survivors could not reconstruct their damaged houses in shortage of resources. The World Bank has agreed to provide Rs 40 billion for this," he said.
CPN-UML leader Bhim Rawal, who is the vice-president of the steering committee, stressed that all should put in concerted efforts for the post-earthquake reconstruction rising above party line.
"The earthquake survivors have started doubting whether the government prioritising their problem due to the frequent change in the NRA leadership," Rawal said.
Chief Executive Officer of NRA, Yubraj Bhusal, briefed the meeting on progress achieved in reconstruction sector so far, budget situation, and reason to extend the deadline.
He said, "Although various problems surfaced in reconstruction of private housings in lack of technical human resources and construction workers, it has reached nearly 50 per cent of its target by addressing the problems."
Similarly, Vice-Chairperson of National Planning Commission, Dr Swarnim Wagle, said that discussion was underway to hold second series of donors' conference for the arrangement of budget as reconstruction task still facing budget crunch.
Committee member Tara Nidhi Bhattarai stressed the need of forwarding works to shift the settlements that are at the risk as soon as possible.
Committee member Kishor Thapa, NRA Secretary Madhu Sudan Adhikari, Joint-Secretaries—Rajuman Manandhar and Krishna Prasad Dawadi, among others expressed their views. RSS