Shankar Pokharel appointed Province 5 CM; Rai appointed CM of province -1
February 14, 2018 | 8:04 pm&nbsp&nbsp&nbsp&nbsp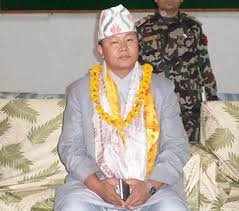 Butwal / Feb 14: Shankar Pokharel has been appointed as Chief Minister of Province 5 on Wednesday.
Governor Umakanta Jha appointed CPN-UML leader Pokharel as CM of the province.
Pokharel's swearing in function has been scheduled for Thursday afternoon.
Rai appointed Chief Minister of province -1
Meanwhile, CPN-UML leader Sherdhan Rai of has been elected Chief Minister of Province 1.
State Chief Prof Dr Govinda Bahadur Tumbahang today appointed Parliamentary Party leader of the CPN-UML, Rai, to the post of the Chief Minister.
At a program organized at the Office of the State Chief, State Chief Tumbahang presented appointment letter to Rai. Rai will take oath of office and secrecy on Thursday. RSS