Powerful commission to sort out land problems; Minister instructs NFC to be result-oriented
December 3, 2018 | 9:56 pm&nbsp&nbsp&nbsp&nbsp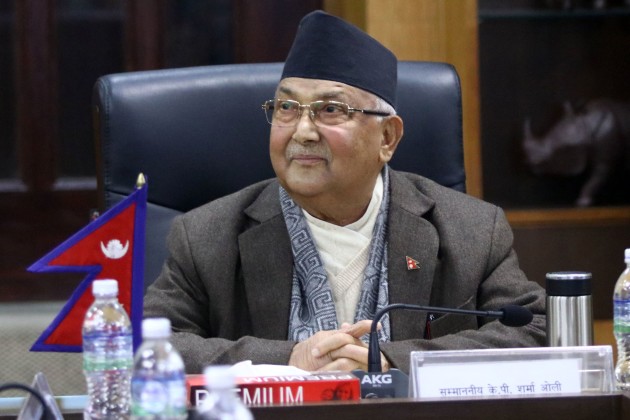 Kathmandu / Dec 3: Prime Minister KP Sharma Oli has said that the government was serious about addressing the problems related to land management.
Talking to delegates from Morang district at Singh Durbar today, Prime Minister Oli directed the Minister for Land Management, Poverty Alleviation and Cooperatives Padma Aryal to find out a solution to the issues raised on the occasion.
The delegation members had urged the Prime Minister to send a special survey team to resolve the land issues at Kanepokhari, Letang, Belbari and Pathri areas, said PM Oli's press coordinator Chetan Adhikari.
Minister Aryal who was also present in the meeting said that the Ministry was preparing to form a powerful commission to sort out the land management issues surfacing in other parts of the country as well.
Minister Yadav instructs NFC to be result-oriented
Minister for Industry, Commerce and Supply, Matrika Prasad Yadav, has instructed the staffers at the Nepal Food Corporation (NFC) to be result-oriented and responsible for their organization.
Addressing the 44th anniversary of the Corporation here today, Minister Yadav urged the employees to rise above their personal interest and work for the greater good of their organization and ensure its revamp.
"It is a government corporation. The market is really unmanaged lately. It is the duty of the Corporation to regulate the market and render services to the public," Yadav asserted, instructing them to do regular market monitoring.
Stating that preparation was afoot to merge Nepal Food Corporation and the National Trading Limited, he commented that the Corporation had not gone beyond distributing rice in the remote districts of the country and selling rice in the jails.
NFC's Managing Director Yogendra Gauchan said it was very difficult to compete with the private sector if the Corporation does not pay attention to diversification of market and be commercial.
According to him, the delayed implementation of the government decisions and primitive working style of the staffers were hindered in the performance of the Corporation.
NFC Board Member Ratna Raj Pandey lamented that there was lack of cooperation among the staffers in the Corporation. He underscored cooperation and collaboration among them to enhance its performance.
Likewise, Employees Organization President Madhav Prasad Yadav said that the Corporation did not have adequate human resources as per the vacancies which had created hurdles in delivering the effective services. RSS