Petrol vehicles to be banned in five cities
December 5, 2018 | 9:22 pm&nbsp&nbsp&nbsp&nbsp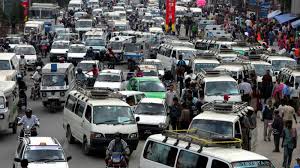 Hetauda / Dec 5: Chief Minister of Province No. 3 Dormani Poudel has said that the provincial government was collaborating with Sajha Yatayat to run battery-operated buses in the province.
In a meeting with Kathmandu Metropolis and Sajha Yatayat officials today, he announced that the provincial government would purchase shares worth 3 million rupees of Sajha Yatayat to run e-vehicles.
It may be noted that the government has decided to ban petrol-run vehicles from five cities by 2085 B.S. Chief Minister Poudel has taken the initiative to collaborate with Sajha to implement that policy.
Likewise, Mayor of Kathmandu Metropolis Bidya Sundar Shakya said the metropolis had allocated Rs. 100 million to expand electric transportation service.
Chairman of Sajha Transport Cooperatives Limited Kanak Mani Dixit said the Sajha was looking forward to collaborating with provincial and local governments. RSS