No need to worry about investment atmosphere: Dr Khatiwada
December 11, 2018 | 9:36 pm&nbsp&nbsp&nbsp&nbsp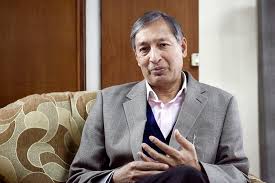 Kathmandu / Dec 11: Finance Minister Dr Yubaraj Khatiwada has said there was no such atmosphere that discourages share investors because overall indicators of national economy were positive.
During a meeting of the Finance Committee of the House of Representatives on Tuesday, Minister Dr Khatiwada affirmed that he was for making the share market a base of the national capital formation. "Government is aware of the fluctuation in share market.
Initiatives are taken to ensure transparency and sustainability of the share market," he said, urging the share investors not to be hastened and worried about it.
According to him, demand was growing for the investment in agriculture and energy which has resulted in declining share market. Even the liquidity has affected the share market, he argued.
On the occasion, former finance minister Dr Baburam Bhattarai viewed, "Nepal's economy has not been oriented to production till date; State needs to be more responsible. The problems in the capital market can be solved through cooperation, dialogue and collaboration."
Another former finance minister Surendra Pandey said if the capital market is affected, the special arrangement could be made.
"It is essential to ensure healthy and secure atmosphere for share investors," said former finance minister and Finance Committee member Gyanendra Bahadur Karki.
Nepal Rastra Bank Governor Dr Chiranjivi Nepal opined that the share value has fluctuated over short span because a number of investors are limited. The capital market must be expanded, he added.
Securities Board of Nepal Chairman Dr Rewat Bahadur Karki, however, said although the secondary market was fluctuating, the primary investors were the ones affected.
Chief Executive Officer at Nepal Stock Exchange, Chandrasingh Saud, said the problems surfacing for long were solved after the stock exchange went online after Tihar.
Share transaction is being carried out by 50 broker companies via 41 branches in 17 cities in Nepal, according to Chairman of Nepal Brokers' Association, Bharat Ranabhat. RSS